Yes, still on vaca and getting quite tired by this point. Tel Aviv was very relaxing but it was short lived and the morning after we got there, we were up at 5:00, heading to the airport to fly to Amman. By this time we were really starting to lose sense of what day it was and we were having to do all kinds of funny referencing with events that occurred days before in order to get an idea.

The airport in Tel Aviv wasn't too adventurous; we had someone from the hotel take us and get us through customs, security, frisking, powdering, more frisking, more security, questioning, more frisking, more questioning, more security, more intimate frisking, powdering, questioning, frisking and then one final frisking with a little more questioning and frisking. We were told that because we were with this hotel guy we got to skip a few steps that would have taken us a few hours longer. I'm guessing there would have been more frisking without him.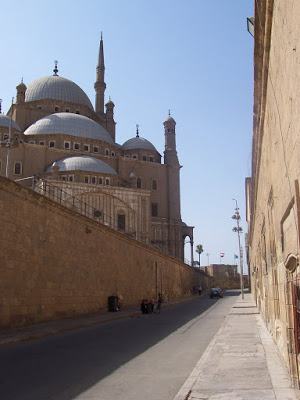 We boarded in Tel Aviv and then got off about 12 seconds later when we landed in Amman (seriously, you should look at the map and see how close it is. It's like flying from Provo to Orem). We then had a really loooooong layover in Amman where we discovered that the "no smoking" signs must have just been suggestions. I also went on a treasure hunt for a working restroom. The first one I went to said "Out of Order" and referred me to one on the other end of the airport. When I got to that one, it looked like a war zone and there was a sign on it referring me to another on a different end of the airport. 15 minutes later I found that one; it was out of order and referred to me to yet another. Finally I got to the fourth, a bit uncomfortable by this time and there was a sign on it telling me that the only working bathroom was on the first floor, one which I couldn't get to without going through customs. I'll just say it was a very uncomfortable layover.
So we finally made it back into Cairo, where we had planned to either get another flight or take a train down to southern Egypt but that plan failed after we found out that flying wouldn't work for some reason and the only tickets left on the train were all night passes in like 30th class which would be less comfortable than walking there barefoot and we didn't feel like we should take Grandma through that after everything else we put her through for the last 10 days, not to mention she had just sacrificed her ATM card to the ATM gods in the Cairo airport which was surely not a good omen anyway.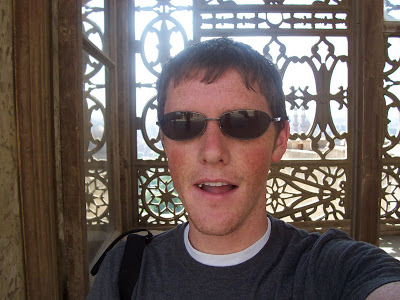 So we found a hotel and decided to plant ourselves in Cairo again for a few days, this time in downtown Cairo as opposed to Giza next to the pyramids where we were before. Our hotel sat right on the Nile and had a gorgeous view. The hotel also looked like something out of one of those 1920s murder ghost mystery horror films which we were pretty excited about. And some celebrity actress was staying there and Uncle Will became best friends with her by the time we left so our time spent there was well worth it.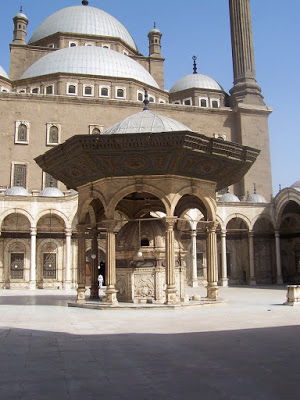 That night we just hung around Cairo until we finally gave in and ate our first American food at Pizza Hut where our server's name was, get ready for this: GamilGamal. Yup. GamilGamal. We of course had to say it about 3,000 times for the rest of the trip and immediately made it a part of the Lavern and Shirley theme song that Uncle Will was desperately trying to sing for days but kept going into the Mary Tyler Moore theme song right after "we're gonna do it!" So for the next few days we sang "Gamil. Gamal. Pizza Hut incorporated! We're gonna do it! We're gonna make it after all!!!" I'm pretty sure this was the first time either of those songs were ever sung in Cairo. Anyway . . .

We also went souvenir shopping which was a big mess but kind of fun. I actually decided that I now want to be a buyer for Pierre One or something so I can just travel around and argue prices until my head falls off. It quickly became my new favorite thing. We found a love for alabaster pots (which we bought about 12,000 of between 3 of us without thinking about how the heck we were ever going to haul all of them home). Grandma found a papyrus calender she liked but decided not to buy it because the price was too high. Well the shop keeper tracked us down and gave it to her as a gift when uncle Will wasn't looking so I told grandma to tell Uncle Will she stole it later at the hotel as he had clearly seen us walk out of the shop without it. It was an academy award winning moment when she pulled it out a few hours later and told uncle Will "I swiped it! Sometimes diabetics do crazy things." He just about had a heart attack.

The next morning we took an hour long boat ride along the Nile, which was very relaxing and really fun. Then we decided to go back to the Egyptian museam which we visited our first time in Cairo but we were far to lazy to go up the stairs to the second floor, which was fine with us until we found out later that the second floor had mummies and all the King Tut stuff which we really wanted to see just because it's trendy. Our hotel was right across the street from the museum but it might as well have been miles away because it's such a like-threatening experience to cross the roads in Cairo that you feel like you've just completed a pioneertrek every time you do it. I have NEVER seen traffic anywhere near as scary as it is in Cairo (and that includes the terrifying taxi drive we took in Costa Rica last December).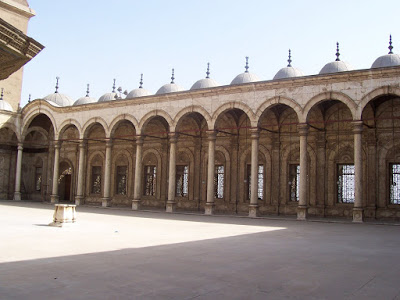 On our way to the museum we were stopped by some overly friendly man who told us the museum was closed, which we believed, against our better judgement and experience that told us not to trust a soul in Cairo, and he ended up leading us to his souvenir shop after telling us he was a doctor. He locked us inside and forced Grandma and Krishelle to look at every art and craft and piece of junk he had ever created while Uncle Will and I started prying at the door and Grandma told him over and over "they're all beautiful, but I'm not buying anything."
Eventually we made it to the museum (which was not closed) and spent a good amount of time there (although it was well over 100 degrees on the second floor) looking at the mummies which were pretty impressive.

Later our taxi driver (Ihab) who we met the night before and absolutely loved despite his car which was just a step above the ones you see on the Flintstones, drove us to a old part of Cairo with a bunch of churches and shops and then to some grounds with a few giant mosques and old military quarters which was pretty cool.

That night we randomly ran into Ihab who took us back to the shops and insisted on helping us find better deals after he heard how much we spent the night before on all the stuff we bought. We went to shops and started negotiating prices and then he would tell us if it was a good deal or not and every once in a while he would step in and argue for us and he did a great job. We got more stuff and spent less money. Ihab was quickly becoming our new best friend and restoring our faith in his fellow Egyptians.

Day 11 ended with us lighting candles and holding every one of our alabaster pots up to the light mesmerized by and obsessed with their majestic beauty.