First of all, come to Strangerville Live THIS FRIDAY. (November 8 at 8:00 PM in Salt Lake City)

Look at these hot people who will be telling stories:


And I'm hosting. While the above people are hot, I'm exceptionally hot.
You guys are going to die when you see how hot everything is.
Get tickets HERE.

(Also, for those coming, please note that we are at a new venue this time. It's called Kiln and it's located at Gateway in Salt Lake City. If you go to the wrong venue you might think I pranked you and you'll be mad at me and I can't handle that kind of drama in my life right now. What with my foot disease flaring up again.)
In other news, I swear to you I'm not obsessed with Sesame Street. I did that Strangerville story about Snuffleupagus and child abuse a few weeks ago and I really thought that would be the end of my foray into the Children's Television Workshop.
But while I was doing all of my research on that issue, I came across the really fascinating backstory of the 1983 death of Mr. Hooper and how complicated it was to tell children about it. So today for Strangerville I'm giving you another Sesame Street story.
Please listen and share.

Which reminds me--I haven't said it in a while, but I hope you know how much we appreciate your incredible, ongoing, and growing support of Strangerville over the years. This project has been so fun for us and we hope you've enjoyed hearing the content as much as we've enjoyed creating it. Every time you leave us a review or share the podcast with someone else it truly makes our day. We hope to continue to grow and get better at this and provide something valuable to you--whether it be a laugh, a cry, an education, or just a disturbing disclosure about someone's poop habits.
We love you.
And now, Strangerville: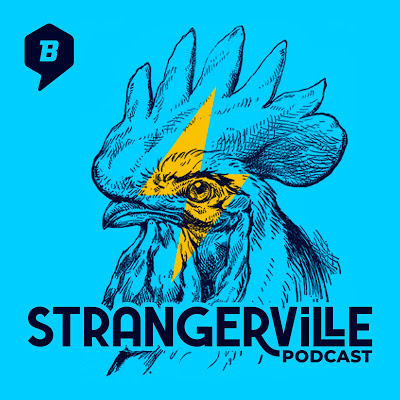 This time in Strangerville, the Mormons are stalking Eli, and Meg will not help. Also, the backstory of the death of Sesame Street's curmudgeonly shopkeeper.
Segment
Mr. Hooper, by Eli McCann
Production by Eli McCann & Meg Walter
~It Just Gets Stranger