We woke up to a snowstorm this morning, which is Skylar's actual vision of heaven.

Mine: I'm greeted by a woman making flour tortillas. We become best friends. We travel together and visit antique shops for all of eternity.

Skylar's: It's snowing but also somehow 110 degrees. He is handed mittens, a comically-large scarf, and is seated next to a fireplace with a stack of books. He is no longer affected by dairy or spicy food and can in fact consume an unlimited amount of each.

I don't think we can spend the afterlife together unless one of us is willing to experience hell, since that's how we view one another's paradises.

Our bedroom in our little hundred-year-old house is odd. The prior owners built an addition on the back of the home in the 50s, including two rooms, one which we use as our master bedroom and another that Skylar lovingly calls "Eli's room of forgotten hobbies."

The name isn't really accurate. In it I keep a piano, two guitars, a ukulele, a harmonica, some recording equipment, bike gear ok I hear it now BUT NOT ALL OF THOSE ARE FORGOTTEN.


Jolyn and I started Strangerville in that room almost four years ago. We had ordered some microphones and a mixer from the internet, and we spent several evenings trying to figure out how to turn them on and edit audio files.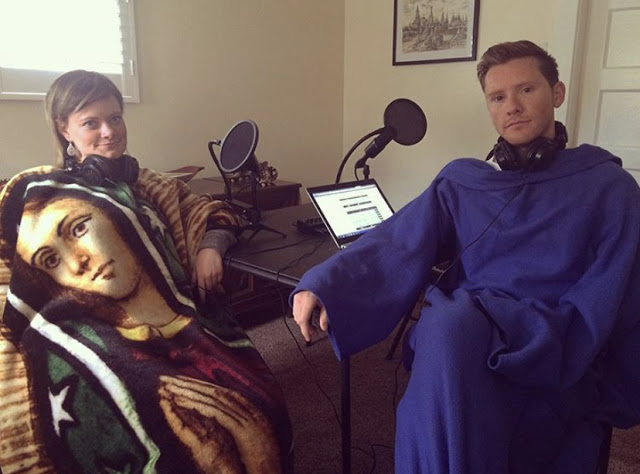 We would lock ourselves away in that room. Skylar and I had only recently met. Jolyn and I would nervously record our voices, and then sit and excitedly talk about this adorable man I found online who lived in Wisconsin. A guy with whom I would never have a real relationship because it was so impractical.

And now, four years later, we lay in our bedroom, which is next to Eli's room of SOMETIMES forgotten hobbies. It has a low-sloped ceiling, six and a half feet at its lowest point, and windows around two of the four sides. What this means is that when we wake up to an October winter wonderland, it feels like we're in something of a mix between a cave and a snow globe.

When we saw the snowflakes this morning I asked the Alexa to play Let It Snow because I apparently skip multiple holidays now to get to Christmas.

We lay there, the leaves and snowflakes falling outside, some festive music playing, Duncan waking up and giving us kisses.

It's strange, and really wonderful, how things sometimes don't end up the way they seem like the probably will.

~It Just Gets Stranger