I embarked on my third sweater project in early July. I was determined to knit one Skylar would actually wear.
Skylar is not a good liar. I don't think he's really capable of lying. It's a very disappointing thing to have in a spouse. I know I know. "But Eli, why would you want your husband to be dishonest with you? Don't you want to know you can trust what he's telling you?"
Y'all, that sounds nice on paper but when I'm like "do you think I'm getting soft around my mid-section" and he responds in a high pitched "WHAT NO OF COURSE NOT WHAT ARE YOU TALKING ABOUT YOU'VE NEVER LOOKED MORE FIT AND YOUR HAIR DEFINITELY ISN'T THINNING" and I'm like "WHAT'S THAT ABOUT MY HAIR???"
I'm just saying, sometimes I would like for him to be a good liar.
When I had him try on the first sweater I made, which I knew was a disaster (it had like five holes in it and it was four inches longer in the front than in the back) I asked him what he thought. He did the same high-pitched voice and said something about how the sweater "really tells a story."
I haven't seen that sweater since.
So I made him a second one this summer and it actually turned out great except for the fact that the chest area is big enough to accommodate large boobs so it looked very strange on him (but great on me, obvi). He told me he loved that one but he didn't make eye contact with me while he said it and I haven't seen him pull it out since, which, yes, it was summer, but this man sleeps with a heating blanket in July.
I picked a pattern and colors he liked for the third sweater. He commanded me to make it smaller than the pattern called for because he wanted it to be gay and snug.
This sweater took me eleventy hours and twelve million dollars to make. I had to undo and redo large portions. And the further I went along the more I thought there was no way this was going to fit him. I had emotionally prepared myself to get to the end of all of this work and have him not even be able to try it on. One day last week I was knitting during a zoom call with Meg and she asked to see my progress. I held it up and she said "is that a children's sweater?"
It was a legitimate question. This thing looks so small.
So you can imagine my incredible surprise when I finished it two days ago, handed it to Skylar, he tried it on, and it fit him like a glove. And not even the OJ Simpson glove. Like, a non-murder glove.
I immediately made him do a photoshoot without letting him change out of his scrub pants. He had just gotten back from affairs so that's why he's dressed this way.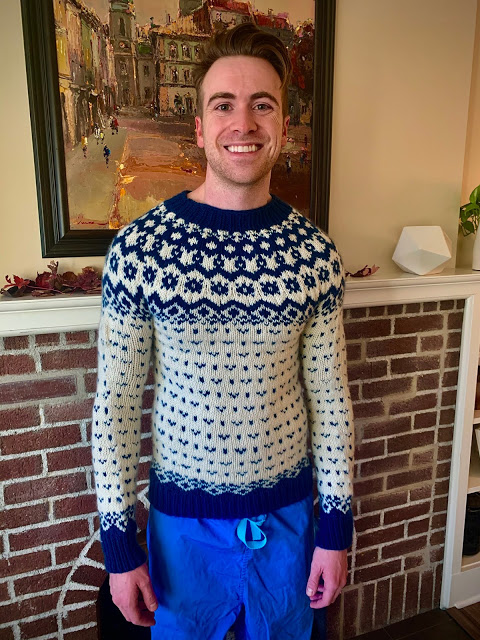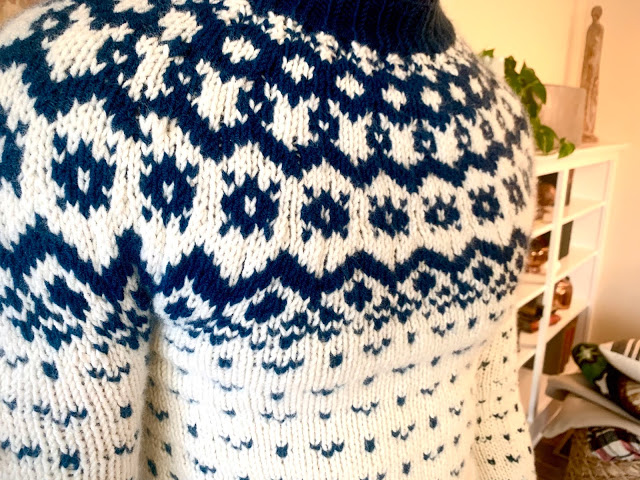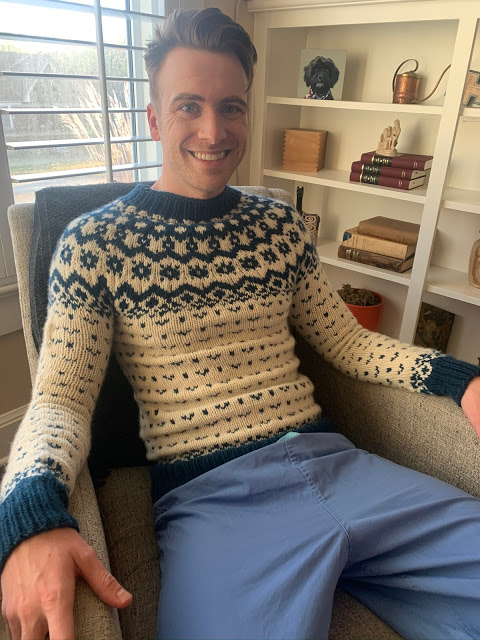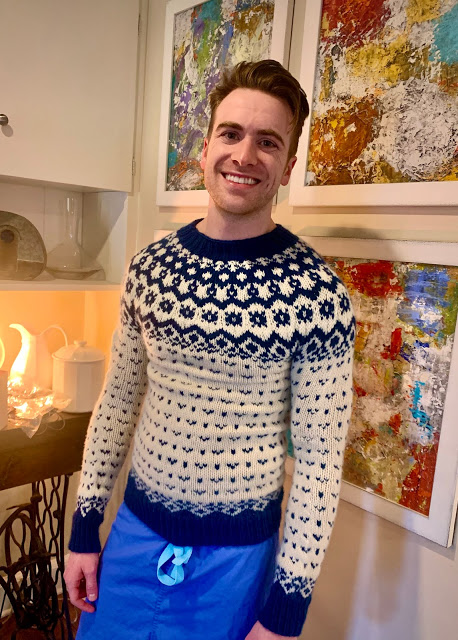 The above pictures are before I blocked it so it actually looks a little more "finished" now.
To my absolute delight, Skylar legit loves this sweater. He didn't even do a high-pitched voice and he made eye contact with me. He was smizing. He said it fits him exactly how he hoped it would and he is excited to wear it.
And, yeah. I'm pretty proud of it.
~It Just Gets Stranger