My first weekend in Moscow was warm and sunny. Unfortunately it's been pretty cold and rainy ever since. But it hasn't snowed so I'm thankful. There have been some empty promises of warm weather on the horizon to match the almost 24 hours of sunlight each day but I'll believe it when I see it. The silver lining, I suppose, is that absolutely everything is covered in growth. If I spend much more time outside I'm afraid I'll start budding a few leaves.

Last time I emailed I mentioned that my boss's daughter and I tried to hit up some churches that were all closed. The next day my friend Kimberly and I went back out and found out that that was the case because the next day was a religious holiday and the churches were preparing for special holiday services. We found probably the most amazing church in Moscow (I've been to enough of them now that I can say that with some credibility). It looks like a giant Russian ginger-bread house and the inside is absolutely gorgeous. They had a huge service going on that was pretty well attended. In Orthodox churches there aren't any pews so the worshipers all stand. Much of the service happens in the middle of the church where the priest will walk around blessing the people with holy water, sing, and perform other unique rituals. Orthodox services really are beautiful and fascinating and I'm happy that I have some time now (as opposed to when I was a missionary) to visit the various churches with some regularity and see all of this. Kimberly and I also went to the Christ the Savior cathedral in center Moscow which is the Russian Orthodox headquarters (this would be like the Temple Square Equivalent for Mormons). The church is unbelievably huge and absolutely gorgeous. Orthodox churches look somewhat like Catholic cathedrals but they tend to be a lot brighter. I love Catholic cathedrals but some of the more gruesome and bloody art you find there will never show up in Orthodox churches. This was actually the main reason Volodimr from Kyiv brought the Orthodox church to this part of the world in the 10th century--he didn't like the gruesome decorations in the catholic churches but when his subjects went into the Orthodox churches in Constantinople they said they no longer knew whether they were on heaven or earth (*this information is courtesy of my under-grad degree). So you can only imagine what the Orthodox Cathedrals in Moscow and Kyiv look like.

Kimberly, Acia, and I bought train tickets to go out to St. Petersburg in two weeks. We can't wait. It will be during "white nights" where in never gets totally dark because the city is so far north. It's going to be a pretty quick trip but Acia is familiar with the city and can hopefully get us around pretty efficiently.

Yesterday morning I went into center to see Lenin's tomb. His body has been preserved since he died in 1924 and the tomb sits right on Red Square and is open a couple of hours a day, most days of the week. It was pouring rain all day so I was already pretty soaked by the time I got into the tomb despite having an umbrella. I made a new friend named Misha who is about my age and is in Moscow from Siberia right now. He was just in front of me in line so we shared an umbrella and ended up hanging out for the rest of the morning. Sometimes Russians can be really friendly. Lenin's tomb was incredibly strange. His body is perfectly preserved and he looks EXACTLY like in his pictures. The tomb is really dark but there are a bunch of lights on him in the center of the room and it makes the whole thing feel pretty creepy. There are also a ton of soldiers standing guard in there making everyone move along quietly. I cannot even tell you how bizarre it was to look at his body and think that that really is Lenin. THE Lenin. On a side note, I read that his fingernails and hair still grow; I have no idea how this is possible but if it's true, the whole thing is much creepier.

I also saw Stalin's grave which is just behind Lenin's tomb on Red Square and then it was off to a monastery on the other end of town. Kimberly met me out there and we explored for a while and also went into an amazing graveyard that has a bunch of important people that apparently weren't good enough to be buried in Red Square because either they ticked off too many people (Khrushchev) or they only had money but not necessarily power.

We were pretty exhausted by late afternoon so we decided to go buy a couple of movies and watch one. Thrilled at our opportunity to get more cultured while in the Mother Country, we found Audrey Hepburn's "War and Peace." After fiddling with the DVD player in a typical Soviet apartment with a couple of old Soviets (the people Kimberly lives with) we started the film. Exactly eight minutes later Kimberly, looking at the case, said like she was breaking really bad news, "um, this thing is 208 minutes long. 60 goes into 208 a lot of times." As we had absolutely no idea what was going on the movie (mostly because we were busy talking about the Snickers, Wafly and herbal tea we were shoving down our faces like the apocalypse had arrived) we decided that we would only watch the movie 20 minutes at a time every day or two. For the last 12 minutes of the 20 we mostly just watched the clock and waited for our obligatory cultural experience to expire. So much for "War and Peace."

Work has been fun. Some of the area presidency is leaving Moscow soon so on Friday we had a Russian party in the office for them. I spent most of the week in some interesting meetings regarding property and visa issues in Ukraine and I also worked on looking into some charters for the Church's legal entity in Belorussia. Some moments at the office are really slow but I'm honestly enjoying that after a rough few months in school. The experience I'm getting here is generally more exciting and useful than I had anticipated and it makes me sick to think that I have to leave this all next month. But we'll just take it a day at a time.

Some of the pictures below are courtesy of Kimberly and Acia as I have been too lazy to take a lot of pictures myself.

One of the 7 sisters Stalin built; impressive buildings.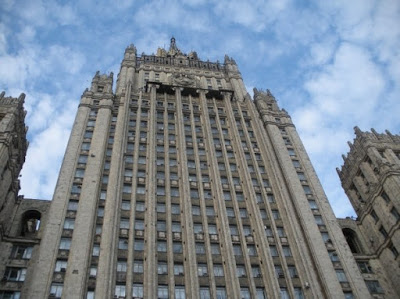 Me and Kimberly eating our blini from a street vendor after a lot of walking.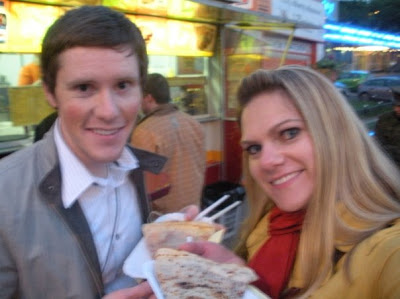 Hanging one night with some members near Red Square.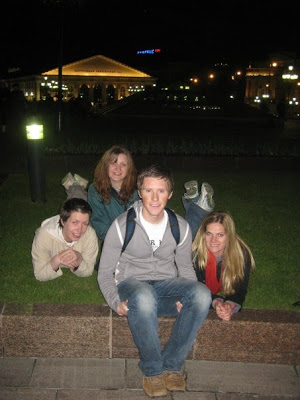 Gorgeous park in Moscow.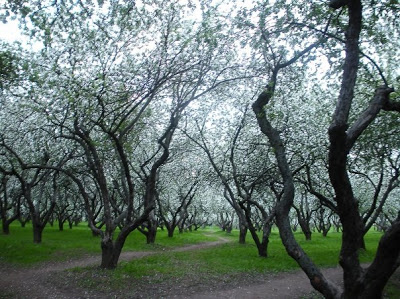 Acia and I holding some of the biggest tomatoes I've ever seen; part of our lunch for the day.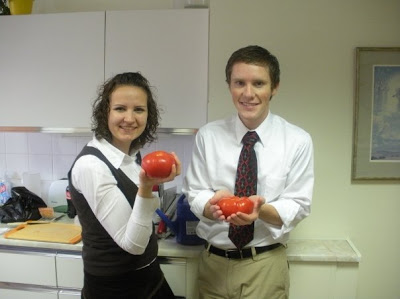 At the monastary; some painters down below.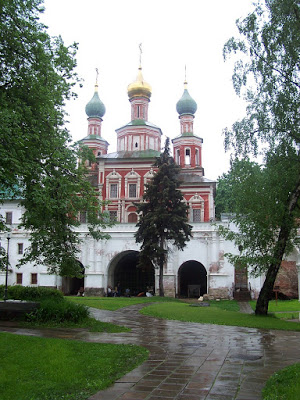 At the monastary.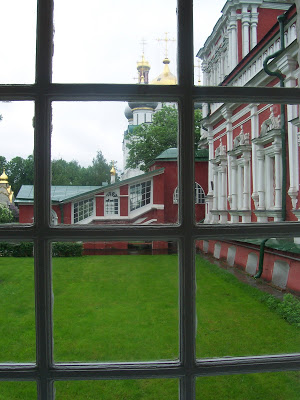 Monastery.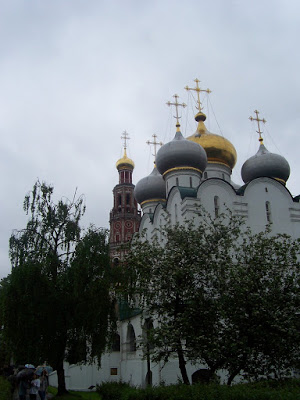 Monastery.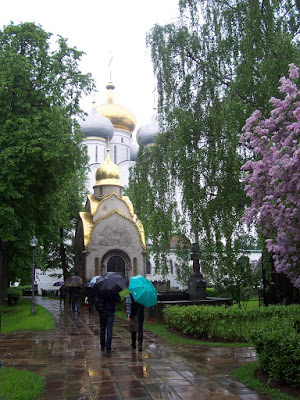 Outside walls of the monastery.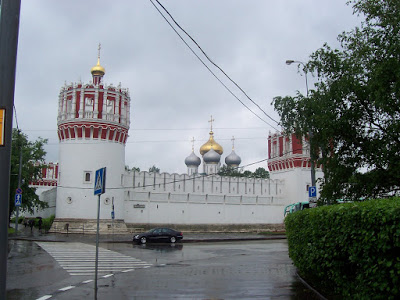 Graves.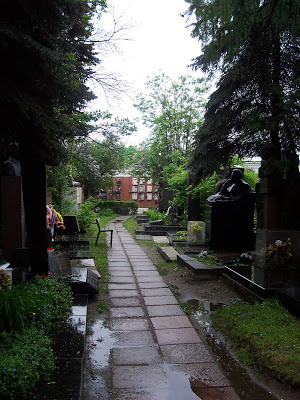 Kruschev's grave.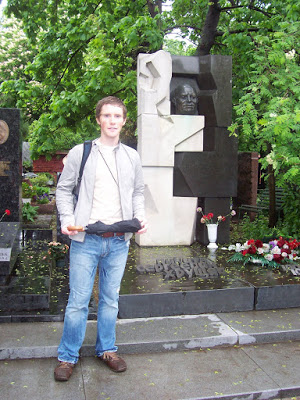 Hanging in Moscow.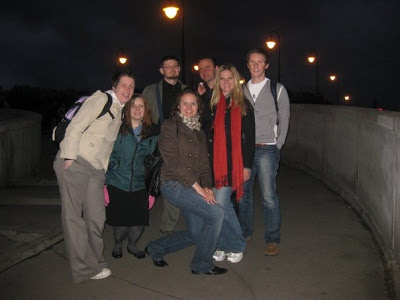 ~It Just Gets Stranger