I NEED EVERYONE'S UNDIVIDED ATTENTION WHILE I HAVE A MAJOR ONLINE FREAK OUT AND MELTDOWN IN EPIC PROPORTIONS.

No. Put down that cat and turn off the tv. I mean it. I need your FULL attention. I'll wait.

Now you all know that I don't like to exaggerate and I certainly don't want to overreact here because if there's one thing I hate it's when someone overreacts. But guys. Last night the most HORRIBLE TERRIBLE THING THAT HAS EVER HAPPENED IN THE HISTORY OF THE WORLD HAPPENED TO ME!!!!!!!

Ok, so that goes maybe a little too far. Maybe this isn't the worst thing ever. Because I know that some bad stuff has happened in the history of the world. Like Justin Bieber, for example. BUT WHAT HAPPENED TO ME LAST NIGHT IS ALMOST AS BAD AS JUSTIN BIEBER!

I seriously cannot use big enough words to describe for you exactly how traumatized I am today. And as you read this story, I need to you keep in mind that you are reading the words of a completely crazed and terrified human being who doesn't know whom to turn to or where to go in this great time of horror and tragedy.

The evening started out innocently. Dinner with a few friends. They were acting suspiciously but I didn't catch on that something was happening. The next thing I knew, they had made up some excuse for why I needed to go into someone's apartment after dinner. So I did, and a small surprise birthday party awaited me inside.

I know, guys. My birthday was like four days ago. It's ok that I had a birthday party yesterday. It's not cheating. Now you know that you are welcome to give me a surprise birthday party with cheesecake any day of the year.

The party was really nice and I felt very loved.

It ended. We left and stopped by my office to gather piles of clothes that had collected there so I could take them home.

Everything seemed to be going so well. It was like all of the things that have gone wrong in my life recently didn't really matter anymore because I had friends who loved me and threw me a birthday party several days after my birthday. I felt like life was taking a turn for the better. Nothing could completely ruin my night and whole life and perception of existence, surely.

Daniel and I walked up the hill to the apartment and I had a smile on my face the whole time.

We got to the door and Daniel opened it because I'm not allowed to have a key anymore and plus my hands were full with all of the clothes we had picked up.

He walked in and flicked the light on, and suddenly, the most terrible awful horrible terrifying thing caught my attention.

There was a long trail of chocolate cake crumbs from the window to the garbage can in the kitchen. Then I saw it: a hole the size of a baseball had been EATEN through the screen.

I stood outside, clutching the pile of clothes in my arms, refusing to enter the apartment.

Eli: What is this?! What happened here?!

Daniel: I . . . I don't know. Do you think . . . do you think a rat ate through the screen and broke in?

Eli: Ooooohhhhh myyyyyyy gooooooosh oh my gosh OHMYGOSHOHMYGOSHOHMYGOSH NO NO NO NO NO NO PLEASE NO NO NO NO WHAT ARE WE GOING TO DO WE HAVE TO MOVE RIGHT NOW LEAVE EVERYTHING LET'S GET THE HELL OUT OF HERE!!!!!!!!!!!!!!

Daniel: SHUT UP! JUST SHUT UP AND LET ME THINK FOR A MINUTE!!!

I knew Daniel was greatly stressed at this point because he is morally opposed to the word "shut up." One time he found out that I quoted him as saying "shut up" on Stranger and he demanded that I take it down. So I pretended like I was doing just that but I had already turned my computer off so I was just fake-typing and saying under my breath "ok . . . delete . . . hmmm . . . what's another way of saying 'shut up' . . . how about 'please be quiet' . . . ok . . . and POST . . . and . . . done." But really I never changed it. Because of laziness.

Daniel went to the window and noticed that there was fur left all over the screen. And when he announced this I felt my spirit attempt to tear itself from my body. And my body was like, "uh-uh. Nope. You are NOT leaving me motionless in this mess." So it didn't work. Plus my spirit would miss ice cream too much so it could never really leave. Ice cream is the reason I probably won't ever die.

We finally talked ourselves into some calm rational thought and decided that the best thing to do would be to burn the apartment complex to the ground with everyone in it and have the president declare marshal law on the entire equatorial Pacific.

Here's the thing, everyone. These aren't just typical run-of-the-mill rats from Hell. These are mutant freak rats that have been promoted as supervisors on the night shift over the other rats from Hell.

We see them every time we take the garbage out because there are somewhere around 14 million of them hanging out at the dumpster down the hill. They are the size of cats and they have shark teeth. Like, the rows of teeth just how sharks have them. And their eyes are bright red and their tails are as thick as a tree and as long as Daniel's femurs.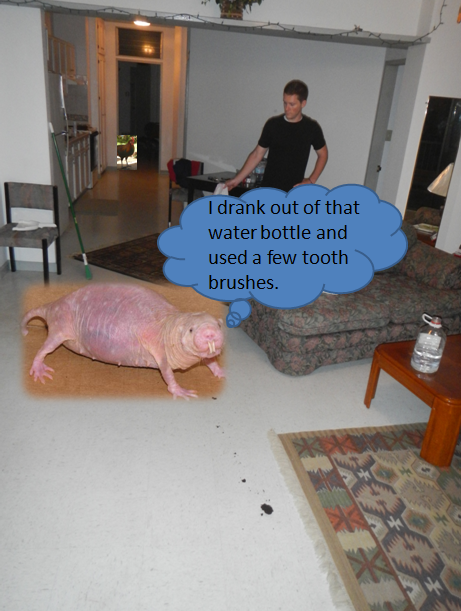 An actual true picture that hasn't been altered in any way of what we came home to last night.

And the thought that one of those was in MY house is so unbelievably violating and horrific and I'm just going to say it once and for all:

I HATE ANIMALS. WHY DO WE EVEN HAVE THEM ON THE EARTH!?! Humans and animals should not live on this planet together! One of us needs to go! I propose that it should be them because their category includes snakes and snakes shouldn't exist. They just shouldn't.

I'll make an exception for sea turtles. Because I think sea turtles might be magical and I love them with every fiber of my being. Humans and Sea turtles can all live on this planet together. BUT THAT'S IT. All the rest of them need to go!

This break-in discovery was so traumatic that I didn't even have time to wonder who the HELL threw away a piece of chocolate cake in the first place! A tragedy in and of itself! Daniel had made the most delicious chocolate cake for my birthday and I was certain that none of it had been wasted.

We started cleaning the place up. The perfect trail of cake crumbs showed that the rat had jumped up onto the chair below the window in order to get back up to the hole that it had eaten through the screen to get back outside. The thought of it doing this is still giving me the heeby jeebies. If I wasn't so morally opposed to drinking, I would make sure to become completely plastered for the remainder of 2013.

Once we had over-sanitized everything in the apartment, Daniel said the most frightening words I've ever heard come out of another person's mouth.

"What if it's still in the apartment?"

Without another thought, we were both outside, running around in circles, shaking each of our limbs as though it might have been on us.

We spent the next half hour wandering through the apartment and checking every possible place for any sign of a rat. Eventually we put a piece of chocolate cake in a sealed bag and stuck it out on the balcony as a test.

We woke up this morning to find the bag completely torn to pieces.

I'm looking into having a skin transplant right after my lobotomy.

On the drive to work this morning, Daniel was trying to be positive:

Daniel: On the bright side, this experience means that my chocolate cake is so good that rats are willing to eat through walls to get to it!

Eli: It was a screen, Daniel. Don't be dramatic.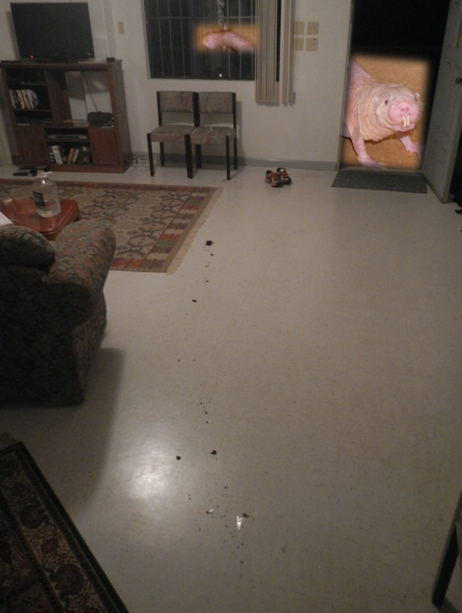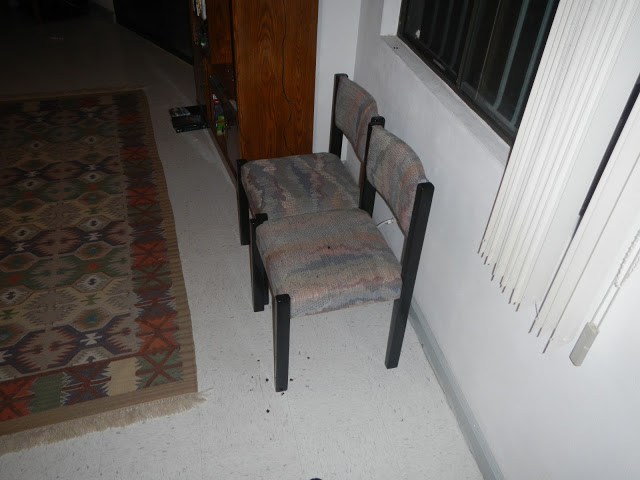 How can rats even jump that high!?!?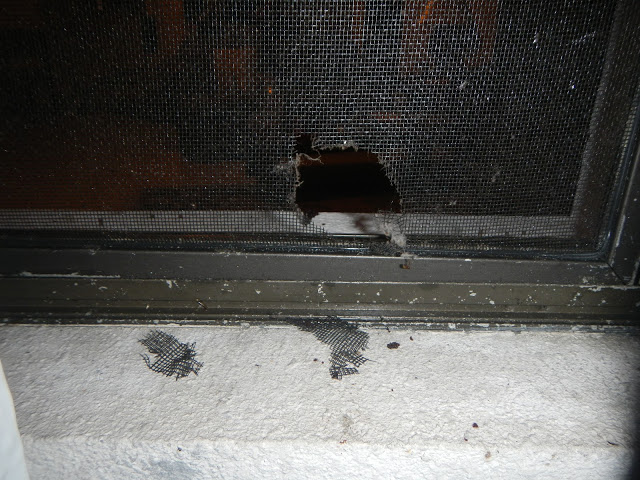 ~It Just Gets Stranger