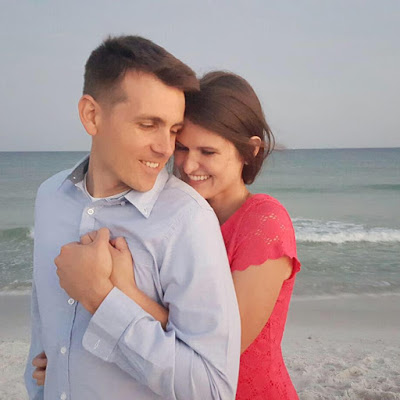 An obviously-candid shot of Rebecca and her lucky man.

Eli: Wait. How did I end up here?

Rebecca: What do you mean?

Eli: How did we get to this store? I don't even remember getting in the car with you.

Rebecca: Hahahaha. What do you think of this one?

Eli: What's it for?

Rebecca: My wedding dress!

Eli: I seriously don't understand how I ended up wedding dress shopping with you. I swear I was just in my house alone and I have absolutely no memory of ending up here looking at wedding dresses.

Rebecca: That's nice. Here. Hold this one, too.

Eli: How did I end up holding 7 wedding dresses in a store with you?

Rebecca: What do you think of these shoes?

Eli: Did you drug me? Are drugs responsible for this?

Rebecca: Eli McCann, you know very well that this is one of your duties as Man of Honor for my wedding. I have come into town so you can go shopping with me.

Eli: No. I have been Man of Honor at two previous weddings and I was required to do nothing of the sort.

Rebecca: What were you asked to do if not help plan the wedding and go wedding dress shopping and weed my flower beds at my house?

Eli: Becky, I invented manipulating friends into doing yard work. That isn't going to work on me.

Rebecca: Ugh. Fine. But the rest of the stuff is a basic Man of Honor requirement.

Eli: At my last two weddings all I was asked to do was look super good in a suit and make a lot of uncomfortable jokes at the wedding dinner party. And explain sex to the bride.

Rebecca: Ok, well I'm certain that nobody asked you to do that last part--

Eli: THAT DOESN'T MAKE IT ANY LESS VALUABLE--

Rebecca: But all I want is for you to help plan the wedding, pick out my wedding dress, and then all of the typical wedding ceremony stuff.

Eli: And what does that include?

Rebecca: Mainly just walking in front of me and dropping rose petals on the ground.

Eli: Um . . . I think you're thinking of the flower girl.

Rebecca: No. I'm pretty sure this is your job. You carry a little cute basket full of white rose petals and you walk in first and drop them on the ground.

Eli: Yeah. That's the flower girl's job.

Rebecca: I'm pretty sure the flower girl does something else.

Eli: Her title is literally "flower girl." They could not have been more descriptive about her role.

Rebecca: Oh, and when you walk in and before you start throwing rose petals you'll loudly announce with a wave of the arm, "may I present her royal elegance, lady of the late, minister of the town, her highness, Rebecca."

Eli: That doesn't even make sense.

Rebecca: And you have to say "Rebecca" with a French accent or it won't sound right.

Eli: Have you run any of this by other grownups?

Rebecca: Look! This dress has bells all over it! Here. Hold this one. I'm going to try it on.

Eli: You should sell tickets to this thing.

And now, your Strangerville Short of the week.



~It Just Gets Stranger