Guuuueeeeessss whaaaaaa-aaaaaat.
(I sang the above in an opera voice because Sky and I just got back from the opera. When the show started he said there was something really familiar about it but he couldn't put his finger on it. Then halfway through he gasped and whispered, "Oh! They sound like your laugh!" And then he giggled to himself for several minutes. I still have no idea.)
But no, really. Guess what.
Strangerville Live is going to be on November 8 at 8:00 PM in Salt Lake City.
We are moving to a new venue this time. It's called Kiln (located at Gateway, 26 S Rio Grande St Suite 2072). The venue is awesome and we are very glad to force you to locate a new spot. We went and met the people who run the place recently. I showed them my cleavage and then Meg showed them her cleavage and then Jolyn showed them her cleavage and basically all the cleavage canceled each other out so in short, they're still letting us come do our show in their space.
I'm hosting this show, which means I have to stay wedding skinny for one more month, which is where I make no changes to my diet or physical activity but I make Skylar say I look like I've lost weight by threatening to cut him off financially if he doesn't comply with my demands for praise.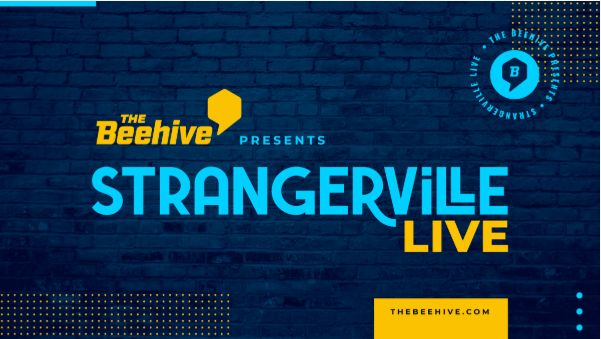 We have some Strangerville favorites, and some new faces joining us on stage, including:
Shelby Hintze: The lesser-known fourth member of the Jonas Brothers, KSL producer, probably not involved in the Lincoln assassination.
Clint Betts: Our boss at The Beehive AND OMG LIKE SUCH A GOOD BOSS AND SO GENEROUS WITH MONEY.
Arianna Rees: Newest writer at The Beehive (currently recapping Provo's Most Eligible), kleptomaniac, probably involved in the Lincoln assassination.
Rebbie Brassfield: Previously told story "Hot Girls" at Strangerville Live, but most well-known for performing "Shallow" with Lady Gaga at the XXVIIICY Academy Awards.
It's going to be great. And if it's not, well then I guess I'll have to go back to being a professional magician.
Please get your tickets at this link.
~It Just Gets Stranger