The first time I visited Skylar's family in Portland I thought maybe the Pacific Northwest was experiencing a famine that hadn't made the news in Utah. We were invited for dinner at the home of one of Skylar's sisters. In my memory, 12 asparagus spears were delicately placed on a white plate and offered to the crowd of 10 people that had gathered. Skylar thinks I'm exaggerating and swears it wasn't that bad. I took offense to his accusation, which is totally unfair as I've never before exaggerated in my life.
As soon as I saw the full dinner offering I made a silent note to myself to venture out later that evening and find myself some more food. The meal was phenomenal. Skylar has two sisters who should be working as head chefs in some pretentious Manhattan kitchen. Instead they waste their skills feeding us.
But although the food was delicious, I stated what I thought to be the obvious to Skylar as soon as we got back to the car afterward: "WHY IS YOUR ENTIRE FAMILY ON A FASTING DIET."
Skylar politely told me I was overreacting, and then he said something I hadn't really ever realized. "Honey, they are normal. You are not. You are incapable of cooking for two or four or even ten people. You only ever cook for fifty."
I told him this is how all of my friends and family are. He agreed. And then it finally hit me that there must still be some major residual Mormon left in me.
Suddenly I had flashbacks to stewing two large pots of borsch that would last Skylar and me several weeks. I saw Daniel and I in Palau make 60 deviled eggs for a snack for the two of us. Lord, last night I made five very large bowls of caramel popcorn for four people. We currently have 16 quarts of pickles in our basement. AND SKYLAR WON'T EVEN EAT PICKLES.
Why do we do this? Is this really just a Mormon thing or a Utah thing? If so, why?
Anyway, please enjoy this week's Strangerville, including a story told on stage by yours truly.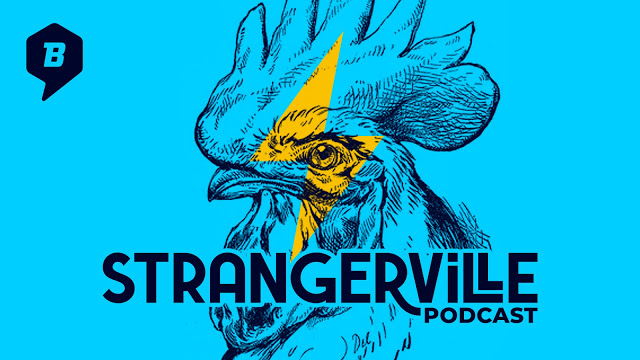 This time in Strangerville, oh the confidence of straight single men. Also, a story told on stage about getting stuck on a swampy island at the Guatemala/Mexico border.
Story
Guatemala, by Eli McCann
Production by Eli McCann & Meg Walter

~It Just Gets Stranger