It's time for one of my favorite annual walks down memory lane. Below I've corralled a ranked 10 posts from this very ridiculous website. These are the pieces you most viewed from 2020. Please enjoy.
And to truly kick it off, here's a picture of me hiking with Skylar and a dozen of his sweaters: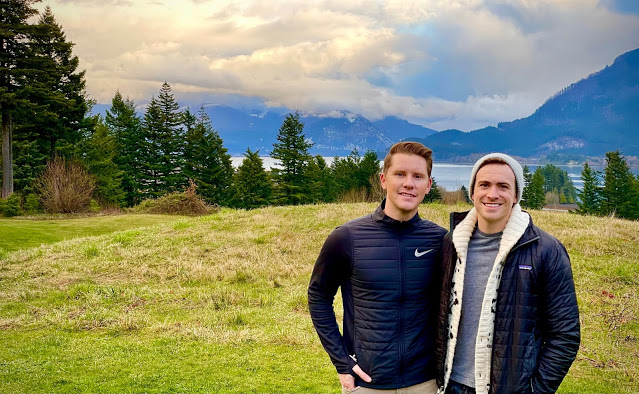 Coming in at number 10, I wrote about Skylar's absolutely outrageous unrealistic expectations that I should be able to find things inside of stores.
It was a quick post about what I was feeling after one year of marriage with Skylar.
My husband may have a circulation problem, and he manifests it by complaining to me constantly that the house is too cold.
Skylar likes to compliment my boobs as a form of distraction. It works.
6. My Mother's Spaghetti Canning Recipe No One Asked For, Which Was Rude
Stranger is basically a recipe blog now.
I wrote about sometimes fearing that my marriage will be taken away from me through one Supreme Court case.
I revealed my theme for 2020. One that turned out to be wildly prophetic.
I wrote about how complicated it can feel to want children but not know how to get them.
We took a quick breath in the mid-point of this year.
The most viewed Stranger post from 2020 was about Girl Scout cookies. I witnessed a very strange turn of events starring an amazing girl scout and my tweets about it went viral.
P.S. I also wrote a lot of articles for The Beehive. Some you might want to check out:
A reflection on what good came of a crummy year.
A BYU film recap for the ages.
We're Coming to the Beehive State
About the time my mom wouldn't buy me a recorder in fourth grade.
Skylar refused to believe my very scary ghost story.
Classic Skating: Puberty on Wheels
I'm pretty sure I'm banned from our local skating rink for the things I did there in the 90s.
Boy Scouts of America: A Quest for the Eagle's Nest
This is probably my favorite piece of writing I did this year.
Another BYU film recap.
A trip to Utah's Thunder Down Under with my parents in 2000 turned out exactly as you could expect.
Another BYU film recap.
An Unsettling Chance to Breathe
A reflection on what it was like to suddenly get thrust into a pandemic.
Memories of seeing people from my home state on reality tv for the first time as a child.
Recaps of the worst films I've ever seen in my life.
We woke up to an earthquake and all hell broke loose.
Some reflections about being closeted at BYU a decade ago.
Is Technology Really all that Bad?
Not if it lets us laugh.
So Online Dating Wasn't Just For Weirdos?
We owe some apologies to the online daters of the 90s.
The story of going to see Titanic with my parents in the 90s.
Did you hear Steve Martin is Mormon?
A piece on the rumors we spread about the religious beliefs of celebrities.
~It Just Gets Stranger