I've taken to treadmill running recently. I go through phases every once in a while where running along the road somewhere seems about as fun as spending the day rubbing lotion onto my great grandma's feet while she tells me about her sexual exploits from the 1920s.

Gosh I don't miss Saturdays in college.

In Palau, where there is basically one road, and where it is so hot and humid ALL THE TIME ALWAYS, and where stray dogs and drunk drivers frequently threaten to off you on the four inches of shoulder on which one can run, the motivation to switch to treadmill running can feel particularly compelling.

I started using a treadmill just down the street from where I live about two months ago. This thing has become like my new best friend/worst enemy. I hate it but I love it.


I noticed the first time I used this treadmill that it not only counts the number of calories burned, but it also displays a picture of a food item, subtitled in Japanese characters, that you can apparently consume based on how far you've gone. It starts off with pieces of candy, then moves on to coffee, advancing to a banana, meandering through a bunch or horrifying-looking options that I can only imagine are truly authentic Japanese cuisines, and on and on.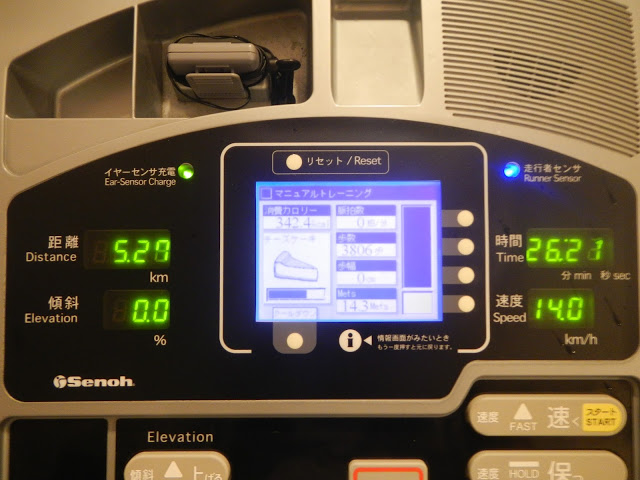 Perhaps the good thing about this treadmill is that it frequently causes me to run farther than I had planned because I just want to see which food item comes next. I had discovered quickly, for example, that at around five kilometers I have earned the right to consume a piece of cheesecake. The next time I ran I went a bit further, discovering that the following option is some other kind of cake. After that, a hamburger. Pretty soon, a large fish with crazy eyes. By ten kilometers, a plate of pasta. Just after that, an ice cream sundae.

The ice cream sundae is the farthest I've made it so far.

Eventually this treadmill has to run out of food items, right? Eventually you reach the ultimate grand prize for exercising, surely. I JUST WANT TO KNOW WHAT THAT IS. I'm not interested in getting the exercise or being healthy anymore. I'm only interested in beating the game.

I hope the final option is something disturbing, like "person."

Last night I was running on that treadmill, headphones in, and totally in the zone, doing my best to get to my desired food item. When I did, I yelled out, "CHEESECAKE!" and pumped both fists into the air like I had just won a gold medal in the Olympics.

I hit "stop" and turned around to find four Japanese people staring at me.

~It Just Gets Stranger