Young Wade and I stayed with my childhood best friend Sam who lives just outside of Boulder. I dragged Young Wade out of bed at the witching hour on Friday morning so we could make the eight-hour drive from Salt Lake City. If Young Wade ever speaks to me again after the number of times I required him to be awake before most people even got to bed this weekend, he shall be given an automatic Nobel Peace Prize.
On Friday and Saturday we wandered to and fro, checking into the race, packing the many gear bags, and dropping things off at the transition areas for the Ironman that would begin bright and early Sunday morning.
Bob and Cathie rolled into town Saturday afternoon after texting me 300 times throughout the day to ask whether I was staying calm. Hashtag worried parents.
The questions were fair. I have been less-than-calm in the last few weeks, although I've tried desperately hard to fix this. As you know, Ironman has been a very long and often terrifying and devastatingly disappointing process for me.
I set a goal to complete an Ironman when I was about 17 years old. I thought I could do it by age 30. And I was ahead of schedule when I signed up for my first race in 2011, at the ripe young age of 27.
I wholly underestimated the 2.4 mile swim, 112 mile bike, and 26.2 mile run, and when I showed up in St. George Utah on that very windy day in 2012, I had one of the more demoralizing experiences I've known in years.
I approached Tahoe last year after a great amount of anticipation and with a much greater respect for the challenge that I expected the race to be. I was prepared to resolve my unresolved business. And I cried that day when the entire event was canceled moments before it was set to begin.
I wrote then that I felt like I had failed somehow. I knew I had no control over the cancellation, but it didn't really matter. I had not accomplished my goal. After all of that hard work. The hours and hours and hours and weeks and weeks and weeks of sacrificing and pushing myself to what I then thought was the brink of my capacity and the doorstep of burnout fizzled into an end-of-season let-down. And after believing that I would never get myself to sign up for another full Ironman again after Tahoe, I registered for the Boulder race in order to finish the unfinished business.
This would mean that I would have to train for another year.
And so, I did. I trained for another year. Harder than I had before. And in that process, I somehow came to terms with Ironman and with myself. I forced myself into an attitude adjustment, refusing to spend another year viewing this thing I was spending this much time on as a "chore" and deciding to imagine it as a quest, which is something entirely different.
And lo and behold, there I stood in a long line of 2,500 triathletes, walking slowly into the reservoir on Sunday morning.
I made a conscious effort to not let myself get too emotional at different points during the day. I thought this might make it difficult to breathe and focus on the task at hand. The first challenge to this happened fifty steps from the edge of the water when Young Wade caught my attention from the sidelines full of screaming supporters. I waved back at him enthusiastically, touched, as I was several times this weekend, that he and others made such a great effort to travel so far just to see me try to accomplish something that mattered to me.
And then, I was in the water.
Within minutes I was hit, kicked, grabbed, and pushed by dozens of people, each of whom was trying, like I was, to get out of the massive scuffle. But none of us ever succeeded. We banged into one another for the entire 2.4 miles. At one point I took a hard fist to the face and immediately got a swollen lip from it.
But remarkably, I stayed calm and swam on, coming out of the water an hour and twenty something minutes after entering it, significantly faster than the 1:40 time I was anticipating.
I was elated. And after being stripped of my wetsuit, I ran through the transition in my very blue underwear, beaming with excitement.
Paul Cyclemon was waiting for me and we began our 112 mile venture moments later.
The bike ride was pleasant. Hard, but pleasant. We wound through small towns and up and down hills. A little over halfway through the course I was offered a "special needs" bag I had packed the night before. In it, the most delicious soggy PB&J sandwich that has ever been consumed by any person in human history.
And before I knew it, and six hours after climbing aboard Paul Cyclemon, we entered downtown Boulder and into the second transition.
I changed into my running clothes and noticed then that I was starting to feel dehydrated. Despite my best efforts to keep up with the 10,000+ calorie-burning and excessive sweating I was experiencing that day, I knew I had not had as much water as I needed.
Surprisingly, though, I felt fantastic as I took off to begin the marathon. I ran fast and felt strong. Moments later I spotted Bob and Cathie and Young Wade and enthusiastically waved to them as they screamed. I would pass them many more times throughout the race, each time becoming slightly less enthusiastic.
I noticed right as I saw mile marker 12 that something felt wrong. I became lightheaded. I felt like I might faint. I was certain this was because of dehydration, particularly considering that (TMI!!!!) I had not peed all day.
It was a scary and frustrating circumstance to hit. My legs felt great, but I feared that if I kept pushing myself, I would pass out and be pulled from the race. And this thought terrified me.
Additionally, I started feeling pressure in my chest and noticed that it hurt when I breathed deeply. My throat started closing up and it was becoming more and more difficult to swallow (and this is still the case, now a day later). I wondered how, exactly, I was going to be able to get through another 14+ miles of running.
The next ten miles I entered a dark place. I don't know how else to explain it. I wandered from aid station to aid station, spaced about a mile apart, like a zombie, stopping at each for several minutes to swallow as many fluids as I could get myself to put down. Volunteers asked me if I was ok as I wobbled back and forth and clumsily grabbed for food I desperately did not want to eat.
Fear crept into me more and more as time wore on and I felt myself losing control. The thought that I could make it this far only to fail, again, made me ache inside in a way I've only known through my prior Ironman experiences.
I pressed on as well as I could, repeating over and over in my mind "you will finish this" and "you are strong enough to do anything," the drama of my head-voice intensifying with each passing mile.
For a while, I felt like I was in my own world, completely alone. The sounds of the crowds were distant. It was like I was stuck in some alternate reality where the only tools available to combat the struggle were the ones in my fatigued mind. And it scared me.
I pressed on, telling myself over and over in that lonely alternate reality that I would not stop and that I would succeed.
And then everything changed. I saw the marker for mile 22 and it occurred to me that I had made it ten miles from the point that I first wondered how I would keep going. I felt proud of myself, and suddenly had the motivation I needed to fill my lonely alternate reality with thoughts of everything I was grateful for in my life at that moment.
I thought of my incredible family that has believed in me enough to repeatedly trek across states to cheer my triumphs and comfort my failures, whatever may be necessary.
I thought of the good health I've known in my life and the incredibly fortunate circumstances that have allowed me to spend time and resources on something so relatively trivial compared to most real problems people face.
And I thought about how much I have learned about myself and the world around me in the last four years as I've worked, increasingly desperately and increasingly hard, to not give up. To see this through, no matter the sacrifice. I thought about how I've learned that I am able to endure when enduring is hard.
And it suddenly hit me. The thing I think I was supposed to learn all along, since the moment I signed up for my first Ironman race when I hoped for nothing more than eventual bragging rights. It finally hit me. And that thing was this:
Success is nothing more than persevering when perseverance is hard.
Success isn't measured by money or friends or awards or finishing races. It's not something you achieve or capture. Success is a state of being. One that is maintained only with consistent effort and one that is lost when principles are abandoned. It is there to embrace every single time something becomes difficult and you have the choice to face it or shrivel. And those times come every moment of every day for every person.
I had succeeded far more by that moment on mile 22 in Boulder on Sunday than I ever would have if I had just completed that first Ironman race in 2012. I was already "winning" every single moment of every single day that I did not give up when things got hard. And there I was, finally, several years later, realizing that the reason I didn't fail in St. George or at Lake Tahoe was because you can't fail if you keep getting up whenever you fall.
These thoughts flooded my tired mind as I turned a corner and saw a finish line come into view with thousands and thousands of screaming spectators in bleachers on either side.
I was going to make it. I realized this. I was going to get to celebrate my epiphanies with all of these people. I was finally going to get the closure I have hoped for for years.
Success wasn't waiting for me at the finish line. The finish line was waiting for me to carry my success to it. And how glad I was in that moment that I never wasted a first Ironman finish on a prior version of myself who didn't understand this.
My body ached and my mind was fuzzy. But I was overcome with elation and I ran toward the crowd and through the final stretch. My eyes filled with tears and I, ugly crying and all, crossed over the finish line just as the announcer yelled out my name and added "you are an Ironman!"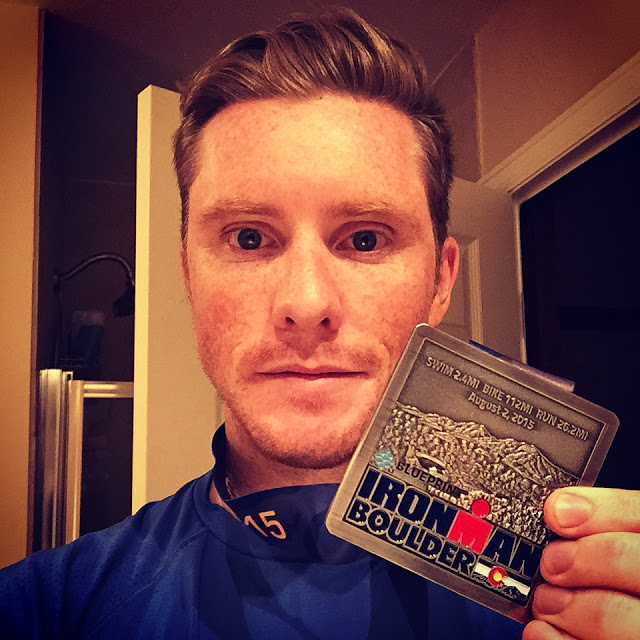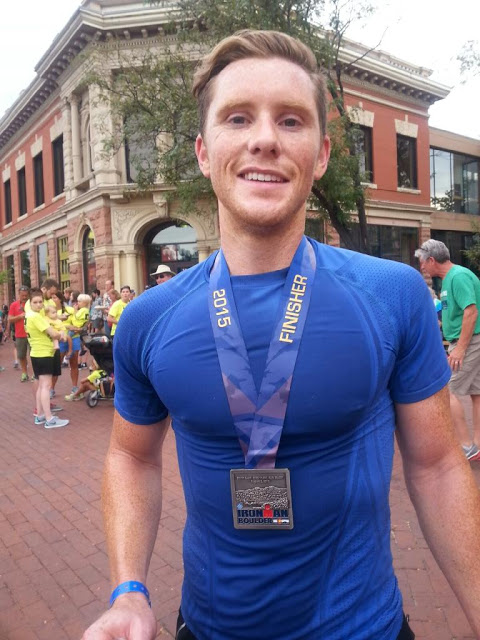 Exceptionally delirious.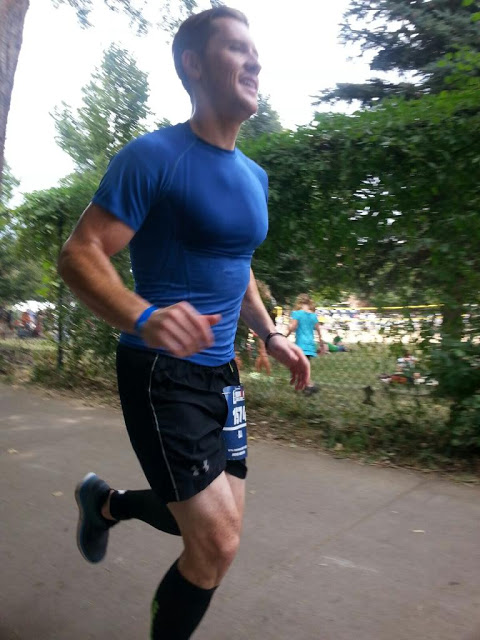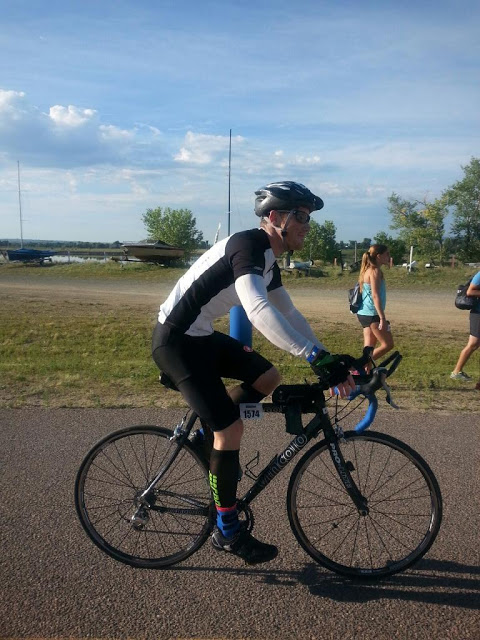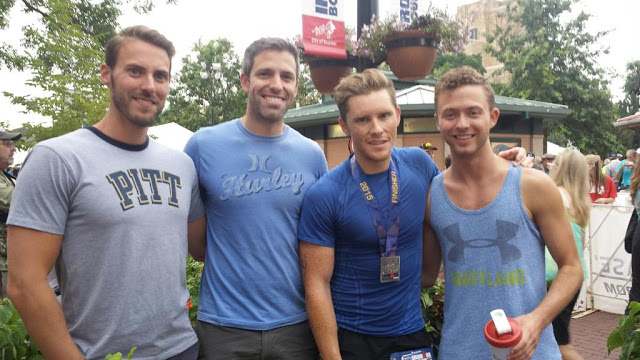 With Sam, Travis, and Young Wade. Unsuccessfully attempting to not look like a serial killer.
~It Just Gets Stranger