A reminder, if you haven't done so already, to check out the story we produced this week about Charity Sunshine Tillemann-Dick and her two double-lung transplants. It's one of the most amazing stories I've ever heard. You can find Strangerville on any podcast app, or just listen to the episode by clicking the play button below.




You might remember that sometime ago I complained at you that Laminate Flooring Comes Straight From Hell and that Laminate Flooring Comes Straight From Hell Part II.

Well, I'm worried that you might have forgotten so today I wanted to inform you that Laminate Flooring Comes Straight From Hell Part III.

You guys. THERE ARE NOW THREE POSTS ABOUT HOW THIS THING COMES FROM HELL. You can stop doubting it now.


When I found my house over three years ago the listing was all like "this house is eleventy million square feet and it has 20 bathrooms and a pool!" But then I showed up and discovered that the pool was actually a dilapidated four-foot concrete pond that was a nightmare to remove, there was really only one bathroom and then a scary room in the basement where an old toilet sat flat on a concrete floor, and most of the eleventy million square feet was actually uninhabitable crawl space.

But it had "a good feeling" and I didn't know what I was doing and I was probably way too much of a hippie to be making a huge decision like this by myself so I immediately sold my entire life to a bank and now I burn magical herbs on the daily so that this hundred-year-old house doesn't collapse on me in my sleep. Because I would rather it happen while I was awake.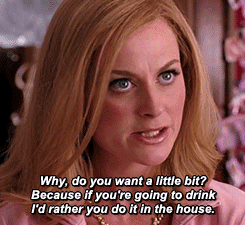 You know that I love my home, and I truly don't regret buying it. But I had also lied to myself at the time of purchase about how much work I was going to have to put into it.

I didn't want to buy a place that would require any updating at all because I was working an insanely demanding job, I had exactly zero handyman skills, and I was really uninterested in home-improvement anyway.

Fortunately I had people like Matt and Adam in my life who have been around to help coach me through several home-improvement half disasters. And in the last three years I have actually learned some basic skills, to the point that I was able over the last couple of weeks to do the below by myself.

You might remember that early last year I hired Tim the Contractor to build an actual real bathroom in my basement. It took him one full decade and my entire basement was covered it construction dust, but he finally got it done and it turned out really nice, for a basement bathroom.

Before and After: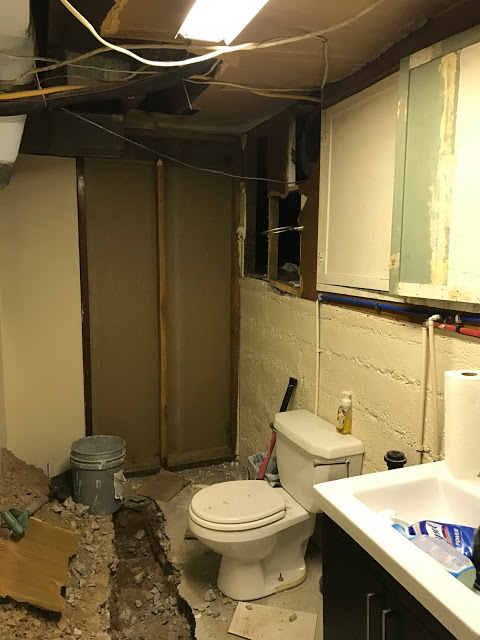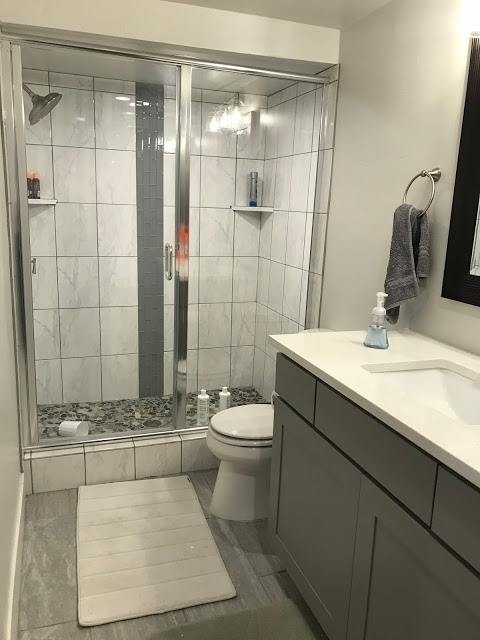 I know. All of the pictures you are going to see in this post are going to be terrible. This isn't a photography blog. I make no apologies.

I also had him build a hallway out for me leading to the bathroom so people wouldn't have to walk through my furnace room to get to it anymore.

I've been needing to give a little more TLC to the basement since then because the floor has been adorned with what I lovingly call "cat pee carpet."

For a while I have known that I needed to rip out this carpet and replace it with something else. I also needed to do something in the hallway since the floor I was left with there was just concrete.

So finally, about two weeks ago, I woke up one morning and I was all like "Eli. Today, you become a man."

And then I drove myself to the store, purchased the gdp of a mid-sized country worth of supplies, and then spent the next two weeks installing laminate flooring and baseboards in my basement.

I learned that most laminate floors are not appropriate for basements because something about leaking and flooding and blah blah blah, so I had to buy a certain kind of floor and then I had to spend eleventy million dollars on some special water-proof blah blah blah, but in the end, I turned the space from this:



To this: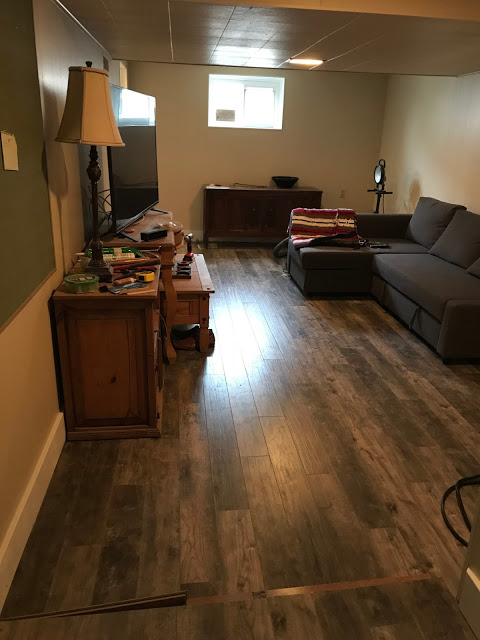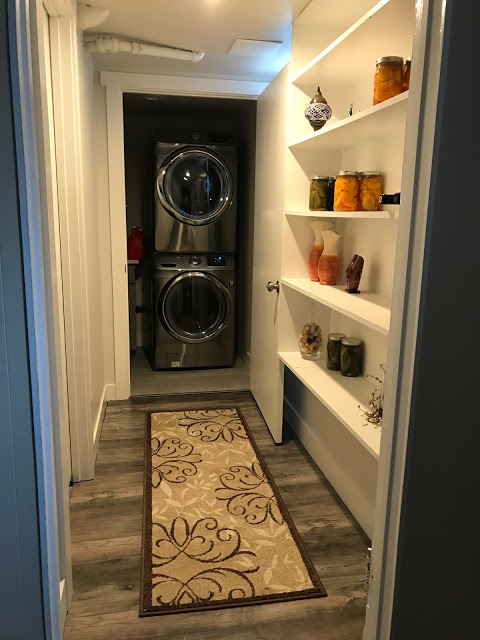 I've still got some work to do and I know that I probably should have just waited until I was done with everything but I used table saws by myself for two week and I still have the same number of limbs I started with so I just couldn't wait to show you.

I've got some threshold pieces to finish off, baseboard touch-up, and I need to install shoe molding. After that I'm going to paint the walls and ceiling to lighten them up. Then, down the road, I'll start updating some of the furniture.

BUT, laminate flooring still comes straight from hell.

~It Just Gets Stranger