Three things:

First, look how organized I am making lists and stuff I'M AMAZING SHOWER ME WITH COMPLIMENTS AND GOLD.

Second, my friend Andrea listened to the Strangerville episodes on the refugee crisis a while back (you can find them here and here) and because she's an amazing person who will be running the cafeteria in heaven (heaven's most coveted job, 3 trillion years in a row), she decided to do something about it. Andrea has organized a little charity event to raise some money for an organization that sends people and resources to the border to aide traumatized women and children.

Andrea gathered some local people who will be performing music. She asked Meg and me if we would sing and I was like YES MEG AND I WOULD LOVE TO PERFORM I GOT YOU BABE TOGETHER but then Meg was like I DON'T WANT PEOPLE TO KNOW ELI AND I ARE CONNECTED and I was like THEN YOU ARE MAKING A LOT OF VERY CONFUSING CHOICES IN YOUR LIFE.

Anyway, Meg is going to host the show and I'm going to tell a story and you guys should all come. It's in Riverton, Utah on June 22. It will be a very relaxed evening. I think there may be a silent auction as well. All proceeds from tickets and any other donations will go to the charity. So come! It will be fun! You can find more info through the Facebook event page HERE and the Eventbrite ticket page HERE.

And third, we are going to do Strangerhood of the Traveling Snuggie again because I mentioned it last week and said that maybe we could get it started again since the last Snuggie got stolen by ISIS, and then everyone on the entire internet was like HOW COULD YOU EVEN THINK ABOUT NOT DOING THIS AGAIN THIS IS ALL WE LIVE FOR. So here we go.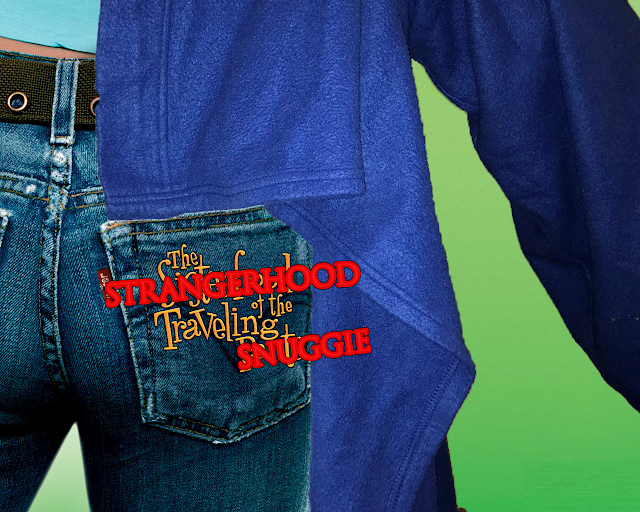 For a refresher, Strangerhood of the Traveling Snuggie started in November of 2017. We sent a blue snuggie on a great journey. Each person quickly took a creative picture in the snuggie and then mailed it off to the next person. It made it through a couple dozen people and about eight states before it got lost by the post office. Now some postal worker's wife is gardening in it in Ohio.

We are starting over. I'm disregarding the old list because every one of you has moved 12 times and 30% of you are now in the witness protection program. So if you want to participate this time, email me by the end of the week your address (itjustgetsstranger@gmail.com).

If you email me your address, that means you are committing to A. Let me give your address to someone so they can ship you a snuggie, B. Take a fun picture of the snuggie, C. Ship the snuggie to someone else, and D. Do all of that quickly so Amy Rose and the Suzzzzzz don't have to sit at home waiting for very long because you know how they get when they have to wait for something. They get concerned.

Eventually I will share your pictures on Stranger. Let's see how far and wide we can get the snuggie to go!

~It Just Gets Stranger