A high energy version of "Walkin' in a Winter Wonderland" is blasting through a not-so-bad sound system embedded in the airport ceiling. It's New Year's Day. I think the clock struck midnight in Salt Lake City about twenty minutes ago. I may be wrong about that. I've been disoriented since Christmas. I'm not sure I could guess the day of the week right now.

My sister just commented that the sky outside looks like a painting. A group of Filipino teenagers are posing for group selfies ten feet from me--not a single photo has achieved unanimous consent. It's fine. They have 90 minutes until our flight leaves.

I'm in Guam. The last time I sat in these seats--these exact seats, if my memory is correct--I plucked out a blog post on this site using a much heavier laptop that had a battery that kept falling out. This was almost exactly seven years ago to the day. I had gone on a weekend trip to Guam. Daniel needed to take a test for a grad school program he was thinking of pursuing and the closest place where it was proctored was this slightly bigger island two hours away.

I went with him because I desperately needed to get out of Palau, where I had been living for about four months at that point. This was near my rockest of rock bottoms. At that time I was waking up every morning, my sheets drenched in sweat, geckos skittering across the walls, piles of laundry molding and mildewing because I hadn't quite figured out yet how to properly store them by spreading them out on flat surfaces to prevent this.

The pit in my stomach was larger than my stomach. I felt perpetually guilty for not cherishing this blip in paradise.

We had gotten back to the Guam airport for our return flight to Palau. The same one I'm waiting for now. The 8:10 evening flight.

That one was delayed--the one from 2013. Typhoon Bopha had burst through Palau that day. We didn't land in Palau until after midnight, a few hours later than scheduled. When we got there we found a country worse for the wear than when we had left it. Toppled trees blocked the roadways. I drove home, weaving back and forth to avoid debris.

The islands were dark. The islands were always dark. But the islands were especially dark this time. Typhoon Bopha had knocked out the power for the entire nation. It would take a day or two or more? to restore it. I don't remember now.

I do remember waking up with the sunrise only six hours later. We baked in that apartment on top of the toppiest hill no matter the conditions, but it was much worse when we couldn't turn on the ceiling fans.

Work was canceled that day. Everything was closed. A message made it to me through the grapevine from the court--my employer. No power. Everyone was out on cleanup duty. Every shoulder to the wheel. That's the way things work in small towns.

Two hours later I was chopping back razed banana trees with a rusted machete. We were piling the banana bunches in a green plastic wheelbarrow. I don't know where the wheelbarrow came from.

Even dull machetes can chop through banana trees with only moderate force, so I guess I wasn't surprised that the typhoon had taken them all down. Once we went through the current crop we wouldn't have fresh bananas for eight months. That's how long it took for the shoots to recover.

I haven't been in Palau since I moved away from it in late 2013. The place has sort of felt like a dream to me over the years--like I made it all up--like it didn't really happen. Sometimes I pull it up on a map and zoom in as closely as I can, tracing the path on the unnamed road from my apartment to my office to my favorite island spots. It feels like I'm conjuring a pretend memory when I do that. Unique ache is surreal in hindsight, especially when you're coming of age. I think I was coming of age then.

But now that I'm sitting in this seat in the Guam airport, the same seat, maybe?, waiting for that same flight, it feels more like I'm retracing a picture I didn't draw that long ago rather than trying to conjure a pretend memory. A picture that looks much more beautiful to me now that I'm better prepared to be generous to that blip in paradise.

I'm calmer now. No stomach pit. No typhoon, literal or otherwise.

My husband is seated a few seats away from me. I assume this is because I stink. I know I stink because he has told me so several times today.

He keeps walking over to me, blocking my view of the Filipino girls who are now passing around a bag of nuts, their frequent squeals penetrating what are supposed to be my noise-canceling headphones.

Skylar is retrieving my phone so he can look through it. We've been in Saipan for the past several days. We attended a beautiful wedding there. I took pictures. Apparently he didn't. He's trying to drop them to his own phone. It doesn't seem to be working.

He's impatient when technology isn't working. He hates it when I stink. He hates being sweaty. He eats bananas.

He'll love Palau.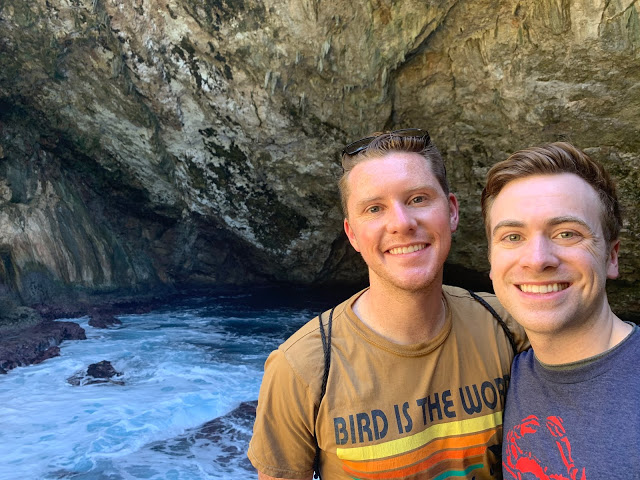 ~It Just Gets Stranger