I walked out onto the beach. It was sunny, already pretty warm even though it was only 9:30 AM. There aren't waves in the water in Palau. Not really. The coral reef extends miles outward and hugs the body of islands. The water at the islands' edges is calm. Quiet. Shallow. Warm.

The beach was mostly empty. A Japanese tourist was slowly slapping his fins in the water, his face down, beads of saltwater shooting out of his snorkel as he blew to clear it out. Twenty feet from him a man in a speedo tried to get his toddler to float on his back. "Maladyets," he congratulated the boy. Russian.

I was wearing pants and a white t-shirt. My only clean clothes. This was our last morning in Palau.

I stopped, my feet dipped in the water, and looked out at a small island two miles away, just off a little to the right. No more than 20 square feet, the island used to be the home of one single palm tree that leaned a little to the left. I used to sit on this same beach and stare at that island and that one palm tree. It used to calm me for some reason. The palm tree is now gone. I don't know what happened to it.

The last time I had a last day in Palau was in 2013. I spent some time alone then as well. I was a little more frantic that day. I worked in my office until the night before moving back to the U.S. I spent my final hours wrapping up my personal life. I had underestimated how long it would take to clean out my large apartment and ship some boxes home.


I had collected some food in the cupboards--mostly canned goods. I piled them in my white Japanese car with its steering wheel on the right side and I drove them down the hill to Skarlee's house where I passed them to some grateful hands. I felt like the Red Cross.

Later that day I parked my car at the courthouse in town and left the key in an envelope for the expat who bought it and would be flying in the next week to move into my apartment and office and assume my life. I wondered if she would do it all better than I had. I hoped she would do it all better than I had. I'm not sure I could have articulated what "better" really meant.

It probably meant living with more gratitude and awe of a place that should have inspired that naturally in me. It probably meant finding peace more quickly.

Some friends drove me to the airport that evening. I had with me a blue backpack, the same one I brought to Palau a few weeks ago. They walked me into the airport and hugged me goodbye. I climbed the stairs inside, sweat rolling off of my forehead. I hardly noticed it anymore.

An hour later the plane lifted off of the ground and just like that, I was gone. Out of Palau. The page had turned, although it would take me years to digest what it had said.

Skylar and Krishelle were in the hotel room packing. The Japanese snorkeler was standing in the water now, adjusting his mask and coughing up some sea. I turned and wandered back in the direction of the room.

Palau somehow became more colorful since I lived there. It's a happier place. Greener. More vibrant. I know the country is probably not the one that has changed--it was probably that way before--but are we sure about that?

I walked onto a jungle path and stopped to shake the beach sand off of my flip flops. I looked to my left and saw two tennis courts where my friend Brian tried to teach me to play. I was bad at it and never really got better despite his best efforts. I smiled remembering the look on his face every time I lobbed the ball into the trees and over the tall fence that was supposed to prevent that from happening.

I would go home after tennis lessons and sit on my balcony overlooking a moonlit bay far below. The sounds of the jungle were deafening. The air smelled like papaya and damp Earth. I would write about my adventures. About the mole rat that broke into my apartment. About swimming with sharks. About learning the hard way not to eat salmon on the Equator. About starting to appreciate what it means to be still.

I would laugh. There were tears and stomachaches, too. But I remember a lot of laughter and warmth when I think about it now.

Sometimes when life seems bad I wonder if it's only because we're failing to notice it's wonderful.

We finished packing at the hotel and we drove around town one last time. Skylar wanted to check out a couple of small souvenir shops on the side of the main road. Eventually we arrived at the airport and climbed those same stairs, joking with one another about how sweaty we all were.

When you go to Palau, customs stamps a large pledge into your passport, and then they require you to read and sign it. It takes up a full page.

Children of Palau, I take this pledge,
as your guest, to preserve and protect
your beautiful and unique island home.
I vow to tread lightly, act kindly and explore mindfully.
I shall not take what is not given.
I shall not harm what does not harm me.
The only footprints I shall leave are those that will wash away.
The plane lifted off of the ground, and just like that, we were gone.
I assume my footprints have already washed away.
I'm glad Palau's footprints on me have not.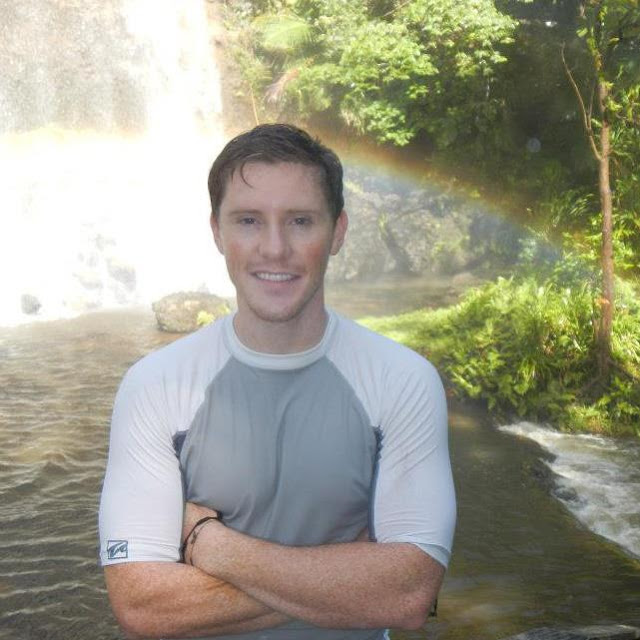 2012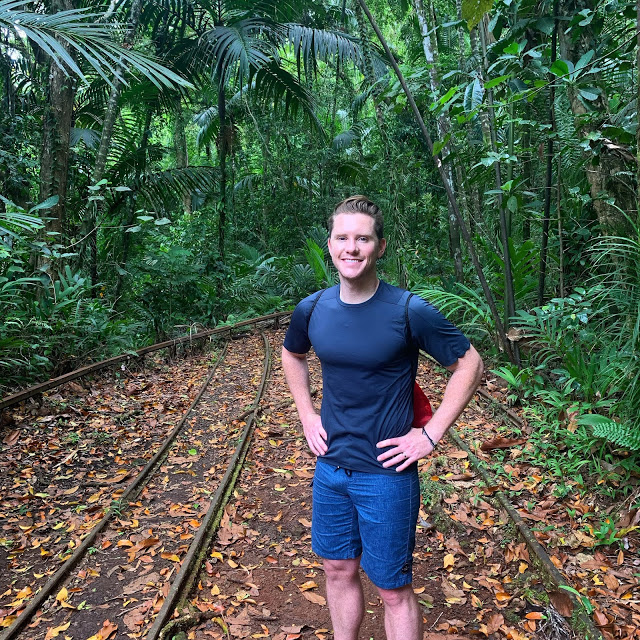 2020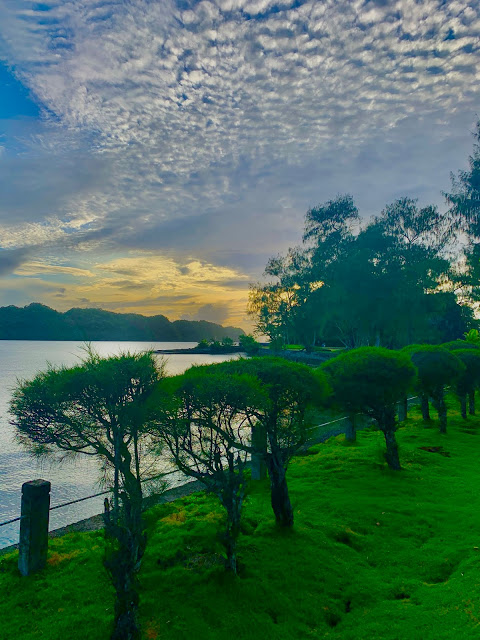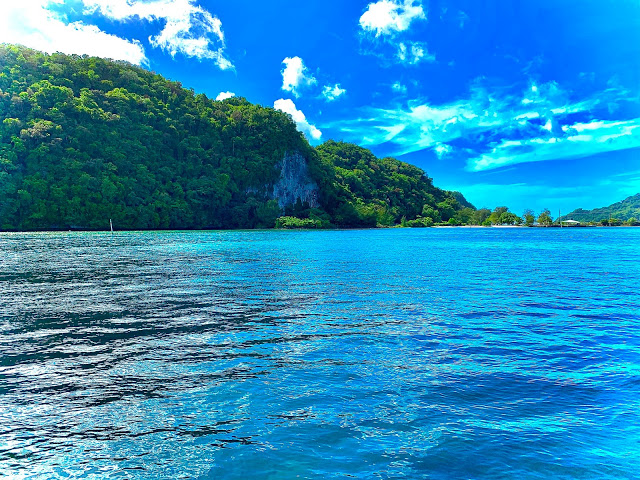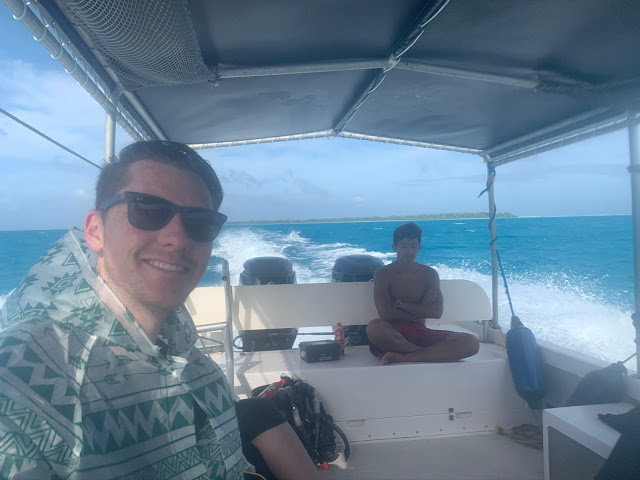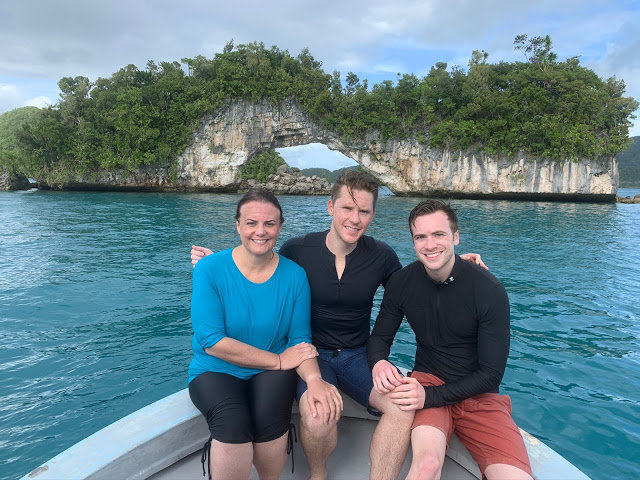 ~It Just Gets Stranger