Exactly five weeks ago Annette called me and asked whether I wanted to participate in a team 10k race. I agreed, even after she told me that it was called the dirty dash and that "parts of the course are a bit muddy." Thinking I would just wear older running shoes and prepare to get a little dirty, I put the date on my calendar and didn't think about it again. Then yesterday happened.


As it turns out, "parts of the course are a bit muddy" was somewhat of an understatement. And "prepar[ing] to get a little dirty" was grossly inadequate. This was an obstacle course made up mostly of deep mud pits, swamps, walls to climb, and a 5,000 person mud wrestling fight spread out over 6.2 miles buried deep in the mountains, miles from where anyone could hear your scream. Teams of five were required to finish the race together and "help" one another through the various life-threatening obstacles. Our team was: Annette, me, Adam, Cory (commonly referred to as "boy-Cory" so as not to be confused with "girl-Corey" who would NEVER be caught doing something like this), and Justin.


Teams: The 1,000 or so teams each had a unique and creative name with costumes to match. We saw everything from pink tutus to clown suits to one very unfortunate costume idea where a group of horrifically out of shape hairy men wore nothing other than angel wings and underwear (gag reflex). Our team, however, was classy. We wore simple yellow shirts that said "dirty lawyers" on the back.


The race:


Mile 1: We ran up a giant hill that was, at that moment, getting sprayed down by a "sprinkler" which could much more adequately be described as a "fire hose." Being less than 60 degrees outside, this was less than pleasant. The screaming began exactly at that moment and did not stop for at least 2 hours. The remainder of mile one consisted of climbing a giant mountain. Those with the heavier costumes (such as the prisoner themed team who had full prisoner jumpsuits, heavy boots and were chained together by 50 feet of links) started to regret their poor choices. Those of us with lighter costumers started looking for a sneaky way to just get back to the cars.


Mile 2: 10 sets of high hay-bails littered the course. Adam hurdled them like an Olympian, forgetting that he, like the rest of us, is too old to do that anymore without repercussions the next day. His knees are most definitely feeling it.


Mile 3: Cue the mud walls. This place will forever stand as the site where I lost all self-respect. Five foot walls made out of sliver-prone boards jetted out of thick mud, which in some spots was deep enough to stand in up to the thigh. Someone stood on the side of the walls with a fire hose, spraying anything that moved. Mud was thrown. Things were said. By the time we got over the last wall, our group of five was rolling around in a giant clump of dirty, violently shoving mud in one another's ears, faces, hair, and (as I was accused of doing to Cory on multiple occasions) mouths, all except for Adam who was mostly skirting our dysfunctional team, intent on staying as clean as possible. Women and children stood on the side and watched us with their mouths gaping open, not really sure if they should call someone after Cory, Justin and I finally got up and left a sobbing and barely moving Annette laying on her back completely buried in mud all except for her nose. For those who were wondering, chivalry is definitely dead.


Mile 3: Cue the swamp. We now each weighed a solid 50 pounds heavier. Having poorly chosen to wear three-layer long basketball shorts, which were now filled with heavy wet mud, I found myself having to hold them with both hands to keep them from falling down. This wasn't practical and the next chance I got I stopped, took them off along with my shirt which was now 15 feet long, and threw my clothes to the side of the trail. Thank heavens I had Under Armor on. Also, thank heavens I was still slightly more modestly dressed than some of the teams and so didn't draw as much attention as running through the mountains with 5,000 people around in my underwear might draw on any other given day. Just after the clothes were ditched, we came across a deep pit filled with muddy water which was difficult to climb out of even without Adam violently pushing us back in each time we were almost to the top. I may have landed on a small child at some point. It was hard to say. By this time everything basically looked the same. Then things got bad. We came upon a giant swamp that smelled like a mix between an airport bathroom, mildew, Guatemala, and every farm you've ever visited. Exercising poor judgment, we each engaged in more mud wrestling here (once again, except for Adam). Promptly after the swamp, all silently promised to set an appointment for a 4 hour intrusive physical immediately after the race.


Mile 4: Tires and fences. The sun multiplied the already bad smell by exactly 1,000.


Mile 5: Water balloons were thrown at us by shocked and terrified spectators who, I'm sure, were witnessing something different than they had expected.


Mile 6: We climbed a giant hill to get to the world's largest slip-n-slide that cascaded the very steep hill we climbed. It had 5 places across to slide down, separated by air-filled cushioning. It was basically one of those giant blow-up castles but in slip-n-slide form. And being sprayed down by yet another fire hose. The five of us sprinted and jumped onto it on our stomachs at the same time, expecting a peaceful yet exhilarating glide down the mountain. Wrong. By the time we got to it, the slip and slide was covered in gravel which we skidded across on our stomachs going well over 50 miles per hour for about 200 meters. Blood-curdling screams could be heard from Logan to St. George until the slip-n-slide spit us out at the bottom into yet another mud-pit. For reasons I'll NEVER understand, Annette and I then thought it would be a fantastic idea to continue sliding down the hill on our stomachs, believing the mud looked soft and inviting. WRONG. Thu mud was cold and full of rocks. Cue more screams. We then gained composure and ran the rest of the way down the hill, all holding hands, five people across until we reached the final mud pit which was basically just a pool of muddy water. Adam dove into it head first and was completely unrecognizable when he reemerged. The rest of us carefully crawled through it, wondering how much of it was mud and how much of it was blood.


The Showers: We wandered around like zombies until we found the showers which consisted of about 10 rows of 10 or so spigots wedged closely together so that about 200 people, at 2 people per spigot, stood almost touching each other, desperately trying to get clean before the water gave them hypothermia. We stood in the crowds of near-naked people that slowly and silently inched forward into the showers. I suddenly got the feeling I was in a horror movie that took place in Woodstock. When we finally stepped under the spigots, I no longer knew what happiness felt like. Loud screams echoed through the mountains as the five of us stood in our skimpies and scrubbed while the hundreds around us did the same. Sometime during what was most definitely the WORST shower of my life (and that's saying something--I've been to a lot of pretty questionable places), I stepped squarely onto a tack of some kind. Welcome tetanus to the list of other things wrong with me.


After the showers, I saw the grossest thing that happened that day. A man walked into a porta-potty barefoot. Ew.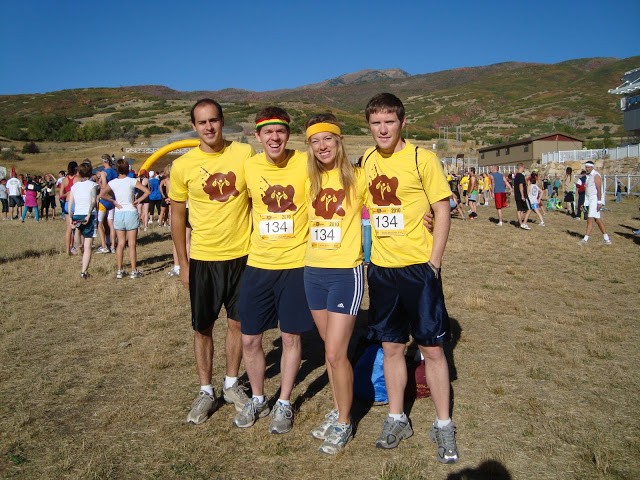 Adam, Cory, Annette, and Me (Before)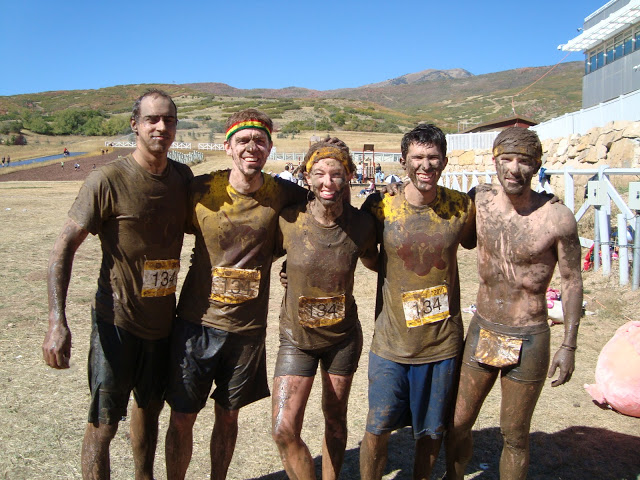 Adam, Cory, Annette, Justin, and Me (After)
We finally escaped the mountain and spent the rest of the day scrubbing and soaking. And planning our team name and costumes for next time.


Should I be worried about the tack?


~It Just Gets Stranger