On Saturday I called Bob and Cathie, who always seem to answer every phone call together and on speaker phone.

Cathie: Hello, so--

Eli: I HAVE CANCER!

Cathie: I'm sorry. You have the wrong number.

Eli: MOM! THIS IS SERIOUS! SKIN CANCER! I HAVE IT! I'M SO YOUNG!

Bob: Where is your "skin cancer?"

Eli: First of all, father, I can tell you used finger quotes when you said "skin cancer" and I very much resent that.

Cathie: It's not that we don't care about you. It's that we don't trust you.

Eli: I have done absolutely NOTHING to violate your trust!

Bob: Remember when you had "leukemia" for five years?

Eli: As a matter of fact, I do! And I also remember how my family didn't even want to celebrate with me when I beat it on my own and without any special treatments.

Bob: We feel confident you can overcome "skin cancer" the same way. Wherever it is.

Eli: It's on my arm. There's a spot the size of a dime and it looks EXACTLY like all of the pictures of skin cancer on the Internets.

Cathie: Son. Everything on the Internet looks familiar when you're trying to identify diseases.

Bob: It sounds like a fungus.

Eli: I haven't even told you what it looks like yet.

Cathie: Yes. Definitely a fungus.

Bob: You probably got it at some bathhouse in China.

Cathie: Or Korea.

Bob: You probably have fungus all over your body.

Cathie: I wouldn't be surprised. Your personal hygiene has never been one of your strengths. We have some cream. Come over tomorrow and we'll put some cream on it.

Eli: Is nobody else concerned about the cancer?

Bob & Cathie in Unison: YOU DON'T HAVE CANCER.

Eli: But--

Bob & Cathie in Unison: NO.

A little later I got a text from Cathie.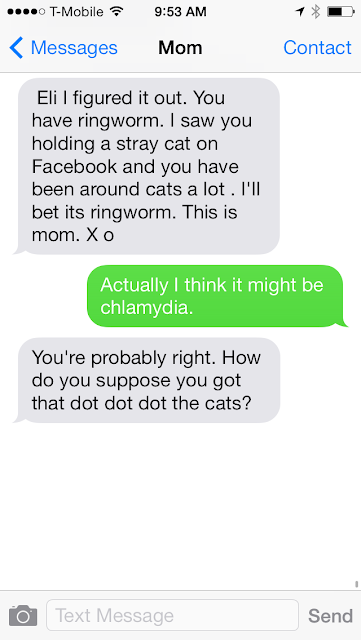 She was referring to this, of course: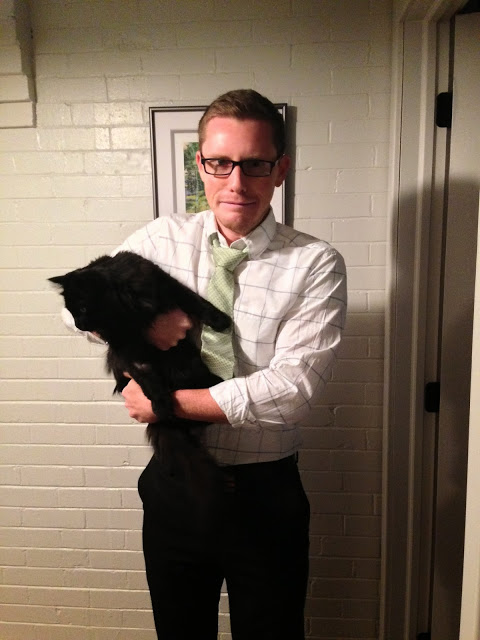 I swear. If that cat gave me cancer . . .
~It Just Gets Stranger