It was Survivor night, so the usual crew gathered in my home. I flipped on the TV. There we were, minding our own business, like good Christians/Jews/Muslims/Americans/muggles/beliebers, when suddenly,

Anna: IS THAT MATT BROOME!!!!???!?

Eli: No. Matt Broome would tell us if he was on TV. Surely he wouldn't keep something like this a secret.

We rewound the commercial because these are the days of miracle and wonder and you can do that now. We watched it eleventy hundred times. And we had a major debate. Well, not so much of a debate. More of a "everyone telling Eli he's wrong."

Adam: That's Matt!

Eli: No.

Anna: Yes it is!

Eli: No.

Emily: That is clearly Matt!

Eli: LIARS!

Ash: ARE YOU BLIND! THAT'S HIM!

Eli: STOP PRESSURING ME I HAVE ANXIETY ISSUES AND PEOPLE ON STRANGER THINK I NEED MORE THERAPY!

Admittedly, I have facial blindness. I always thought this was something I made up but then This American Life did an episode about it one day and so I found out that it's a real thing and I have it and no, Brianne, this is not just another web M.D. thing where I think I have everything that gets discussed on the Internet.

So then I decided to text Matt a picture, because he wasn't at Survivor night last week because I guess he doesn't even care about America.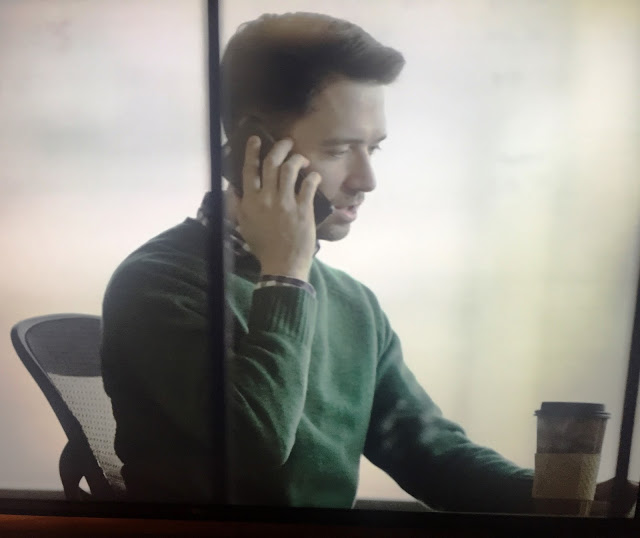 It was from a commercial for a political campaign. And, no, I won't tell you which one because I cannot STAND this particular politician and he will not get free advertising on Stranger.

The scene in which the above person is pictured lasted about 8 seconds and it featured the actor talking on the phone while a voice-over made some vague conspiracy-sounding theories about national security or The New Deal or Oprah or something.

Since Matt didn't respond within 4 seconds like I demand from him, I called him on speaker phone.

Eli: MATT! IS THAT YOU?!?

Matt: Where did you see this?

He said it like we uncovered pornographic images from his youth. NOT THAT WE KNOW WHAT PORNOGRAPHY IS.

Eli: It's on a campaign commercial for [Oprah Winfrey]!

Matt: I NEVER GOT PAID FOR THAT CRAP!

Matt explained that he shot some stock footage earlier this year for some videographer after they asked him, probably because his eyes are literally always smizing and he is basically an intergalactic male model. Then he complained about not getting paid for the job in such a strong southern accent that Gone With The Wind just won an honorary Academy Award. Then he hung up on us.

We were all surprised that Matt didn't seem at all interested or excited about the fact that his friends just saw him on TV or that his image was being used to support some political candidate about whom Matt probably knows very little. He only cared about the money.

He's a true artist.

I thought maybe this wasn't exciting to him because he realized that probably nobody else would even notice his rise to fame. But then on Sunday:

Bob: Did Matt film a commercial for [Oprah Winfrey]?

Cathie: Yes! I also saw him on a commercial!

Krishelle: Me too! He was talking on the phone!

Eli: Yes. And don't bother asking him about it because he doesn't even care.

Cathie: I hope he doesn't start taking all his clothes off. That's what they do in Hollywood these days, you know.

Thanks for that, Cathie.

~It Just Gets Stranger