A couple of quick things:
First, your comments on the Shannon recap are giving me life. Also, SOMEONE IN THE COMMENTS LITERALLY FOUND HER GRANDMOTHER IN THE FILM. Stranger is 100% adding "reunites families" to its resume. It will go right underneath "once trolled TMZ so hard they had to send a cease and desist."
Second, we launched a Patreon for Strangerville and Strangerville Live. Meg and Jolyn have both been threatening me through local mafia groups to do this for a while but I just haven't because lazy.
For those unfamiliar, Patreon is a way you can support content by paying some small monthly amount to help with production costs. We launched the Patreon because we have some plans to expand, this site, Strangerville, and Strangerville Live in 2021 and we are hoping to be able to do that without forcing Meg to sell one of her children on ebay.
For now we've launched two Patreon options. There's a $3 per month donation basic option. There's also a $5 option that will get you tickets to Strangerville Live when it hopefully returns later this year. I'm hoping to add some additional perks down the road, including June Snapple related merch. Yes, I hate myself for using the word "merch."
To kick off the Patreon, I'm going to run a drawing of members at the end of February and send out a couple Snuggie or Snuggie adjacent gifts. So go check that out here (patreon.com/StrangervillePodcast) if you'd like to support us like a wonder bra on an Eli at the end of 9 months of sitting in his socially-distanced house eating bags of popcorn soaked in additional butter added after it comes out of the microwave even though my husband has repeatedly told me this practice will "for sure kill" me one day.
I legitimately hate asking anyone for anything. When I proposed to Skylar I added "if you want, but seriously no big deal" at the end. This is a problem I have and I wish I could improve, but I've decided to put off any efforts in this area at least until my 40s. Does anyone else suffer from this? Is there a support group?
So I may completely undermine the Patreon pledge from above in saying this, but honestly, please feel no pressure here. Just by showing up and listening and coming to the shows and reading this very stupid website you are already helping the Strangerverse grow and thrive. And if you are someone that just can't support content financially for whatever reason, there is no reason to feel bad about that. AND there are several other free ways to support us, and these free ways matter A LOT.
Apart from Patreon and/or listening/subscribing/etc., a few super super super helpful things (and I honestly mean it. These things are very helpful for us, and really any content creator on the internet you like. Yes, I hate myself for saying "content creator."):
1. Leave a written review for Strangerville on your favorite podcast app. Leaving 5 stars is awesome, but adding a short written review is even more helpful. Even a single additional review makes a difference (and a lot of reviews makes a big difference) in helping Strangerville actually gain exposure. This is because of internet science, which is powered by wickedness, but we're subject to it whether we like it or not.
2. Follow us on social media. Facebook. Twitter. Instagram.
3. LEAVE COMMENTS. Interact with Strangerville here on this very stupid website and whenever you see us on social media. The reason this matters, and many of you can attest to this, is that this community and space is so valuable in large part because of the incredibly supportive and fun community interaction.
When you interact here or anywhere we are hanging out, it makes all of this more fun. Also, we've gotten so many of the stories you love from you just speaking up. Shoutout to The Suzzzzzzzz and Amy Rose and many others who have given Strangerville some of the most amazing stories we never would have heard had they not repeatedly harassed me and some of you on this site.
4. Share Stranger and Strangerville. Share episodes or articles you like on social media. Tell family and friends. Help us gain exposure with your audience, whatever it is. Most of you are here because someone shared something from this place with you. I'm so happy that someone did and I hope you are, too. But even if you're here to hate read, please share. I am in desperate need of more trolls to CENSOR.
And that's about all I have to say about THAT. I love you. And not just because you have great hair. But partly because you have great hair.
Inthenameofcheeseandriceamen.
And now, please enjoy this week's very wild Strangerville: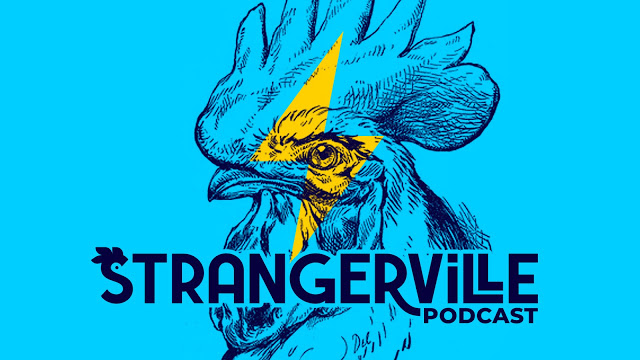 This time in Strangerville, someone shared a recipe for "Just In Case" cookies online and Meg and Eli are very upset. A man has a run in with a dangerous cartel in Mexico. And Meg and Eli are lucky to have survived several close calls while living in eastern Europe.
Story
Cartel, by Tim Stricklan, music by Gillicuddy
Production by Eli McCann & Meg Walter

~It Just Gets Stranger