Ring ring.

Bob & Cathie: Hello?

Eli: How do you guys always answer the phone at exactly the same time?

Cathie: Years of practice.

Eli: I need help. Desperately.

Cathie: We know.

Bob: Sorry? Who is this?

Eli: You both went different directions but your humor is, respectively, on point.

Cathie: We know.

Bob: Sorry? Who is this?

Eli: Ok, enough messing around. I'm living Noah's Ark right now. This is all very serious.

Bob: You have unwanted animals in your home?

Cathie: You're growing a beard?

Bob: Incest?

Eli: No! You guys! I'm flooding! My entire house is flooding!

Bob: YOUR WHOLE HOUSE FLOODED?!

Cathie: No, Bob. He means that there's a minor leak somewhere.

Eli: Right.

Bob: After all these years with you people I still don't understand or speak exaggeration.

Cathie: You can't learn it. It's just a part of who you are. Like the Force.

Eli: Ok, so anyway, I heard water running and I didn't know where it was coming from and I looked everywhere and discovered that it was coming out of a faucet at the back of the house. So I turned off the water to the whole house and now I don't have running water which means I'm CAMPING.

Bob & Cathie: WE'LL COME GET YOU RIGHT AWAY!

Eli: No. I'll be ok. You don't need to come and get me.

Bob: I did not claw my way to get into this country so my children would have to camp.

Cathie: No sir!

Eli: Ok, you guys are both like 22nd generation Americans so let's take it down a notch. But I agree that your children should never have to go camping, which is why I'm calling you so late at night because I don't know how to fix this.

Bob: Well it sounds like the faucet head is broken but you should probably look in the basement to make sure a pipe didn't break.

Eli: Well, the pipe runs through a crawl space under the back of the house, a crawl space I didn't even know about until right now.

Bob: Do you know how to access the crawl space?

Eli: I think so. I'm lying in it right now.

Cathie: DEAR ALL THAT IS HOLY GET OUT OF THERE BEFORE THE HOUSE FALLS ON YOU!

Eli: Cathie, it hasn't crumbled in the last hundred years. I don't think it will in the next five minutes.

Cathie: YOU HAVE TO DO WHAT I SAY BECAUSE OF MOTHER'S VETO POWER!

Eli: Damn. I hate when you pull that out.

Cathie: Ok, son. So you called your mommy and daddy because you need us to take care of you?

Eli: No.

Bob: So you need us to come and fix your problems in our retirement years because you, an able-bodied young man, refused to listen us when we tried to teach you life skills for three decades?

Eli: No! I don't need you. I just wanted moral support. I can fix this on my own. Without any help from anyone. Good day. I SAID GOOD DAY.

Ring ring.

Matt: What.

Eli: I need you to fix my whole house and not tell Bob and Cathie about it.

Matt: I can't deal with this right now. Ollie had a haircut disaster this afternoon and we are in mourning over here.

Eli: No. Please tell me this isn't true. Send me a picture.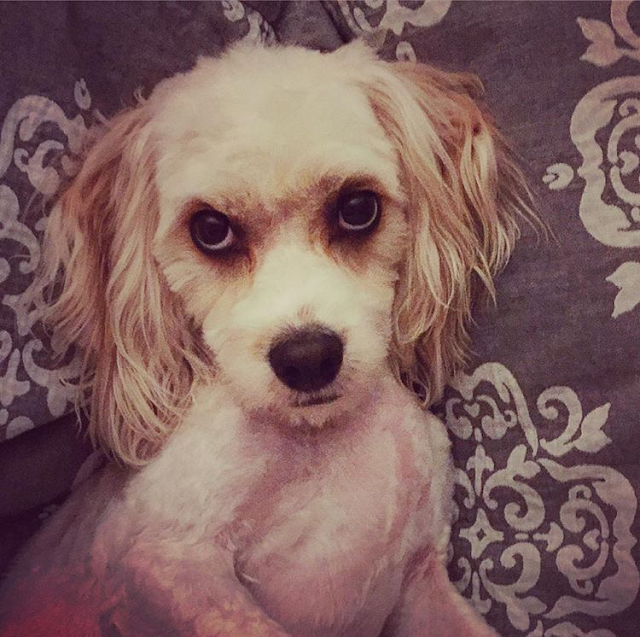 Eli: I can't breathe.

Matt: Are you crying right now?

Eli: I don't think any news I've ever heard has ever hurt this much.

Matt: This is why I can't fix your house right now. How can anyone do anything at a time like this?

Eli: I'm so sorry to have bothered you.

Matt came 24 hours later and fixed my house. Special shout out to my amazing brother-in-law Jeff who was ready to drive across the valley to help me until Matt intervened.

Please keep Mr. Pants in your prayers right now.

~It Just Gets Stranger